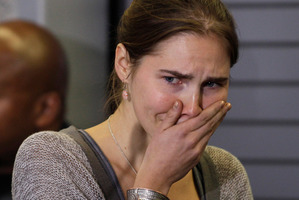 Amanda Knox's DNA was not found in the bedroom in which Meredith Kercher was stabbed to death, an Italian court heard yesterday.
On the first day of the American's retrial, the court in Florence was told there was ample DNA evidence from Rudy Guede, who is serving a 16-year jail sentence for the sexual assault and murder of Kercher, 21.
"How is it possible to find traces of Guede in enormous quantities but not a single trace of Amanda?" Giulia Bongiorno, representing Knox's ex-boyfriend, Raffaele Sollecito, 29, asked. "How is it possible that the only trace of Raffaele, which naturally we contest, was on the bra strap?"
Tiny traces of Sollecito's DNA were found on a strap torn from Kercher's bra in the violent struggle that led to her death. But the strap was only discovered by forensic officers 47 days after the murder. Defence lawyers maintain there was so much DNA contamination that it cannot be admitted as reliable.
The appeals court agreed yesterday to a prosecution request that fresh testing be carried out on a minute trace of DNA on the kitchen knife allegedly used to stab Kercher to death. The handle of the knife bore traces of Knox's DNA, but her lawyers said that was no surprise because it came from a kitchen drawer in her boyfriend's flat.
Alessandro Nencini, the judge in charge of the retrial, also agreed to hear testimony from Luciano Aviello, a member of the Camorra mafia, who claims his brother killed Kercher during a bungled robbery.
The hearing was adjourned until Saturday.