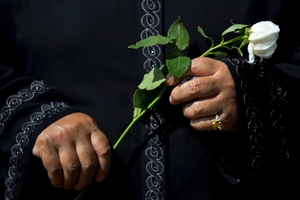 No hostages were left in the devastated Nairobi shopping centre where terrorists killed 67 people, the Kenyan Government said, despite a Red Cross estimate that dozens remain missing.
The Interior Minister said nine suspects were now in custody after last week's attack by Al-Shabaab militants.
Joseph Ole Lenku also criticised an American decision to upgrade its travel warning for citizens heading to the east African country, saying it was "unnecessary" and "unfriendly".
Kenyan security forces believe between 10 and 15 terrorists attacked the Westgate Mall on September 21, throwing grenades and opening fire indiscriminately.
Five were killed in the attack, but Ole Lenku would not say if the remainder were suspected of having been gunmen or part of the wider plot.
A British man arrested at Nairobi airport since the attack remained in custody, but Ole Lenku declined to comment on reports that Sharif Ahmed Abdirazak had been carrying plans of the shopping centre on his laptop.
The British High Commission has previously said his arrest was not considered central to the investigation.
Five days after the siege ended, the Red Cross's latest figures show 59 people are still registered as missing.
Three floors of the building collapsed in the later stages of the fighting and rescuers have said they fear bodies are still trapped.
But Ole Lenku said the death toll still stood at 67 and there were no hostages left in the building "unless forensic evidence shows otherwise".
Meanwhile, Samantha Lewthwaite, the British Islamist widow who is the subject of an international arrest warrant, was spotted in South Africa's capital early this year watching foreign embassies, a report said yesterday.
The 29-year-old is known to have been in South Africa between 2008 and 2011, travelling as Natalie Faye Webb on a fraudulently obtained passport that was cancelled two years ago.
In January and February, the mother of three was reportedly caught on CCTV watching embassies in the Arcadia area of Pretoria, including the British High Commission, according to the City Press newspaper.
South Africa's Home Affairs Minister, Naledi Pandor, has refused to comment on claims that Lewthwaite, who was married to one of the suicide bombers in the July 7, 2005 attacks in London, has other South African identity papers.
Last week Interpol put out a red notice for the Muslim convert originally from Buckinghamshire, who has been in Africa since 2008. The warrant did not connect her to the Nairobi attack, though there have been repeated rumours of her involvement. Instead it referred to a failed bomb plot in 2011.
Anneli Botha, a Pretoria terrorism expert, said she believed there was a "tremendous threat brewing" in South Africa, with the country not so much a direct target of Islamist terror groups but a "very active role player".
Telegraph Group Ltd