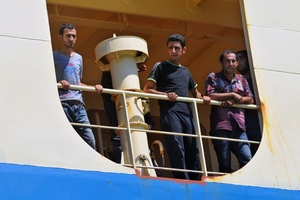 The Indonesian Navy has slammed the Australian Government's plans to turn back asylum-seeker boats, warning that the policy is "too risky" and could cost lives at sea.
In the latest of a string of objections from Jakarta, a senior navy official says Prime Minister Tony Abbott's plan to force boats back would also unfairly shift the burden of dealing with the asylum-seeker problem back on Indonesia.
Major Andy Apriyanto, head of policy for the Indonesian Maritime Security Co-ordinating Board, said Abbott needed to drop the plan or he would be responsible for risking lives.
"What they need to do is to revise their own policy," Andy told AAP. "Casualties may happen with this, and if they are in open sea, first of all it's too risky, with boats commonly in poor condition and over capacity."
The comments from the senior officer, who was directed by Indonesian naval headquarters to speak on the issue, appear to be part of an increase in criticism from Jakarta of Abbott's asylum-seeker policies, especially his plan to turn boats round.
The criticism, which follows another rebuke of the turn-back plan from Foreign Minster Marty Natalegawa this week, comes just days before Abbott meets President Susilo Bambang Yudhoyono in Jakarta.
Andy said Indonesia had co-operated with Australia in attempting to disrupt people-smuggling operations, but it now faced an unfair share of the burden in dealing with the flow of asylum-seeker boats.
"Even though we have done our best to prevent them, it's impossible for us to stop all of the boats from entering Australia," he said. "This is additional burden for Indonesia. We could've just let them sail to Australia, but no, we respect Australia's wishes.
"This is a dilemma. If we don't save them, then everyone will be blaming us for not respecting human rights ... But if we let them [sail to Australia] then Australia would be yelling at us why we let them go."
The Coalition has repeatedly said its new suite of border protection measures, including the turn-back plan and paying Indonesian villagers for information on people-smuggling operations, were non-negotiable.
Foreign Minister Julie Bishop has said many times the Coalition would not be "seeking permission" to implement its asylum-seeker policies despite Jakarta labelling some of them an attack on Indonesian sovereignty.
- AAP