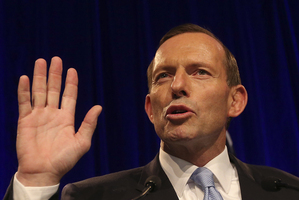 Prime Minister Tony Abbott. Photo / Getty Images
The war between environmentalists and Prime Minister Tony Abbott's new conservative Government has begun in earnest.
Abbott has come under increasing fire for his plans to dump carbon pricing and an emissions trading scheme, axe an independent scientific commission on climate change, and hew through other climate bodies set up by the former Labor Administration.
He will face tough opposition in the Upper House, where the Greens will hold the balance of power until the new Senate convenes next July.
And his decision to jettison the Climate Commission - seen by opponents as an attempt to stifle debate - has prompted the former commissioners to continue as a new Climate Council funded by public donations. Abbott, who once called climate change science "absolute crap", has since accepted that human activity influences the Earth's climate but opposes carbon pricing and has pushed the issue well down his political agenda.
Government policy now embraces a range of measures, key among them a A$2.5 billion ($2.8 billion) plan to pay polluters to reduce greenhouse emissions.
Abbott has kept Labor's target of cutting emissions by 5 per cent of 2000 levels by the end of the decade.
But the Government also places heavy emphasis on fossil fuels and the huge role of coal in the national economy.
It is now looking at measures to promote the controversial extraction of coal seam gas (CSG), including the possible transfer of federal powers protecting water supplies from CSG extraction to the states - which the Greens would fiercely oppose in the Senate.
Abbott's decision to axe the Climate Commission and rely instead on information collated by the Environment Department has been attacked by a wide range of critics.
The commission, with a budget of A$5.4 million over four years, was overseen by eminent scientists. Its job was to distil the mass of research and other data published around the world into concise reports. Its work was used by organisations as diverse as the Defence Force and rural fire authorities.
The former commissioners will now work pro bono for the new council in what chairman Tim Flannery described as a "titanic struggle ... for a clean and safe environmental future".
He said the new council would remain above political and business influence and refuse any money that came with strings attached.
"Our role is to communicate the facts of climate change to the Australian public," he said. "We won't be running any political campaigns, we won't be running any agendas.
"We will fiercely guard our independence."
The decision to axe the commission has drawn heavy fire, coinciding with the imminent release of the latest reports of the Intergovernmental Panel on Climate Change and a speaking tour by controversial Canadian environmentalist David Suzuki.
"If people in positions of power deliberately suppress or ignore information that is vital to the decisions they're making, that is wilful blindness," Suzuki said.
"I call it more than wilful blindness. I call it criminal negligence because it's a crime against future generations, to avoid facing the reality.
"This is what Mr Abbott is doing by cancelling the commission."
Abbott also intends to shut down the Clean Energy Finance Corporation, which provided funding for green projects, and the Climate Change Authority, which advised the former Labor Government on global measures to tackle climate change.