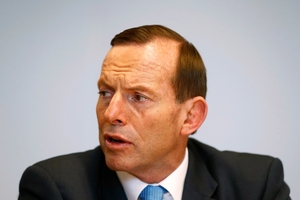 Like it or not, Prime Minister Tony Abbott will have to face gay marriage as his new Government launches into its already controversial agenda.
Abbott is busy enough. Immediately after being sworn in by Governor-General Quentin Bryce on Wednesday, he began hewing through the public service and pushing moves to end the carbon tax and toughen action against asylum seekers.
Yesterday, marriage equality also burst on to his horizon, with the Australian Capital Territory's Labor Government introducing a law to enable same-sex marriages by the end of the year.
In the background, Tasmania and South Australia are preparing to reintroduce similar legislation. New South Wales' Liberal Premier, Barry O'Farrell, has indicated he would support a likely bid to legalise gay marriage in his state.
Soon Abbott will welcome the United States' new Ambassador to Canberra: John Berry, a friend of President Barak Obama, is openly gay and legally wed to husband Curtis Yee in a marriage Australia does not recognise.
Abbott, who has admitted to being "uncomfortable" with homosexuality, is opposed to gay marriage and will not allow his MPs a conscience vote in any move to change the federal Marriage Act.
His opposition conflicts with the views of most Australians, who polls show support marriage equality. Labor's support for the move - though far from decisive - helped stave off an even greater inner-city collapse in this month's election.
At present, no Australian jurisdiction allows gay marriage, although de facto rights and civil unions are recognised in most.
The ACT's introduction of marriage equality legislation, almost certain to be passed next month, would be a national first and a potential floodgate for similar state moves.
It could also force Abbott's hand.
He has instructed Attorney-General George Brandis to seek advice on the legality of the ACT move.
As a territory, the ACT operates under different constitutional arrangements from the states, with its legislation subject to federal oversight.
Former Liberal Prime Minister John Howard used this power to quash earlier laws passed by the ACT to legalise same-sex marriages and euthanasia.
But under constitutional changes passed by Julia Gillard's Labor Government, the former right of a federal minister to veto ACT laws was revoked, instead requiring a vote in both Houses.
If Abbott decides to challenge marriage equality in the ACT, he will now have to pass new legislation, which could also be used against the states under constitutional provisions giving federal law primacy over state legislation when the two conflict.
With the Greens controlling the balance of power in the Senate until next July and Labor supporting gay marriage, Abbott would be unlikely to succeed.
He would need to work the crop of independents in the new Senate to pass it when the new Upper House sits.
PM responds to Indonesian flak
Australian Prime Minister Tony Abbott insists he respects Indonesia's sovereignty after an Indonesian MP condemned his plan to turn back asylum seeker boats as illegal and offensive.
Tantowi Yahya, a member of the Indonesian Foreign Affairs Commission, says the plan to turn refugee boats back could jeopardise Indonesia's good relations with Australia.
Abbott yesterday declined to comment directly on his turn-back plan, saying his Government wouldn't conduct discussions with Indonesia through the media.
"I have no argument with anyone in the Indonesian establishment or Parliament," he told reporters in Sydney.
"My argument is with people smugglers and my point to the people smugglers is 'the game is up'."
Mr Abbott was confident his Government would be able to work effectively with Indonesia.
- AAP