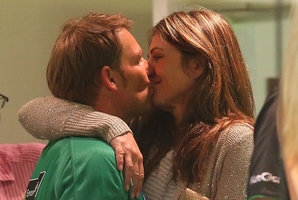 Notorious lothario Russell Brand and British millionairess Jemima Khan have stepped out in public as a couple for the first time in New York.
The pair were pictured looking relaxed with their arms round each other strolling around Manhattan's fashionable East Village.
The unlikely pair were believed to have met two years ago when Khan commissioned Brand to write an article for the New Statesman, of which she is associate editor, the Telegraph reported.
Comedian Brand, 38, who was formerly married to pop star Katy Perry, first hinted at his latest romance in an article for the Guardian last Friday.
He wrote "Now, I'm not typically immune to the allure of objectified women, but I am presently beleaguered by a nerdish whirling dervish, and am eschewing all others."
Brand claims to have slept with more than 1000 women. Since the breakdown of his marriage in 2011 he has been linked with a string of women, including Geri Halliwell.
Khan, 39, former wife of cricketer turned politician Imran Khan, also had a relationship with actor Hugh Grant before they split in 2007.
Meanwhile, there is speculation Grant's other famous ex, Liz Hurley, has split with fiance Shane Warne after an unusual Twitter silence.
The pair, who frequently sent each other public tweets, haven't mentioned each other for several weeks, according to the Daily Mail.
Former cricketer Warne, who is in Australia, didn't mention Hurley when he celebrated his 44th birthday last Friday. He thanked his friends and family for birthday messages, but failed to mention the swimwear designer, who is back home in England.
The same day, Hurley tweeted that she spent the day fixing an alpaca fence at her Gloucestershire farm.
The couple were first linked in July 2010 after they were photographed chatting at the Glorious Goodwood Festival in Sussex.
Warne proposed to Hurley in October 2011 and in an interview last year, the couple spoke of their plans to marry this year, with ceremonies in Australia and England.