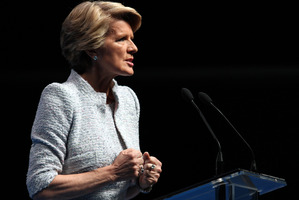 Prime Minister-elect Tony Abbott says his new ministry is one of the most experienced in the Coalition's history and reflects some significant promotions.
Abbott announced his Cabinet and outer ministry team in Canberra yesterday, nine days after the Coalition's election win over Labor.
"This is one of the most experienced incoming ministries in our history," he said.
However, he faced criticism for announcing a Cabinet with just one woman in it.
Abbott said he was disappointed there weren't more women in his 19-member Cabinet.
Incoming Minister for Foreign Affairs Julie Bishop will be the only woman.
Liberal Senator Sue Boyce said she was shocked and embarrassed by the lack of women.
"It's a shame that this shocking and embarrassing statistic will permanently tarnish a wonderful victory."
Boyce, who is retiring from Parliament when her term in the Senate expires next July, said the lack of women in the Cabinet should be a wake-up call for the Liberal Party.
"It's a systemic problem for our party."
But Abbott believes he has a solid team.
"You'll see there is enormous stability in this team but there has been as well some significant promotions."
Most of Abbott's shadow cabinet from Opposition remains intact, but almost all the portfolio titles have been streamlined - in an end to the super-ministries that existed under Labor.
"With grandiose titles of the former Government, it sometimes seemed that ministers needed an extra large business card to contain all of their various titles," Abbott said.
The new Cabinet ministers have short titles - such as Minister for Education - while MPs in the outer ministry are described as "Assistant Minister".
"I'm determined as far as humanly possible, to have clear lines of authority," Abbott said.
Some ministers would have other areas of responsibility, like Health Minister Peter Dutton, who will also oversee mental health.
New Cabinet members include Senator Mathias Cormann, who becomes Minister for Finance.
He takes the portfolio from former finance spokesman Andrew Robb, who becomes Minister for Trade and Investment.
While Bishop retains the Foreign Ministry, she loses trade, which the Nationals had hoped - but failed - to take back in government.
Liberal Sophie Mirabella, who is still fighting for her political survival in her Victorian seat of Indi, is not in the ministry line-up.
She was shadow minster for industry, but the position went to Ian Macfarlane, who will also oversee energy and resources.
Nationals leader Warren Truss maintains his position as Deputy Prime Minister and becomes Minister for Infrastructure and Regional Development in the Cabinet.
Joining Truss in the Cabinet is Nationals MP Barnaby Joyce, as Minister for Agriculture.
Joyce takes the portfolio from fellow Nationals MP John Cobb, who now has no ministry position.
Senator Arthur Sinodinos joins the outer ministry as Assistant Treasurer - after being Abbott's parliamentary secretary in Opposition - under the new Treasurer, Joe Hockey.
Abbott's Cabinet will be sworn in tomorrow.
- AAP