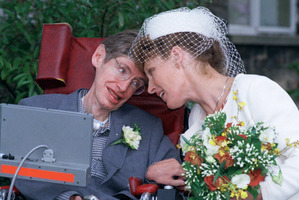 The painful end of Stephen Hawking's first marriage, and the bitter acrimony of his second, have been described in detail by the Cambridge cosmologist for the first time in his autobiography.
In a revealing memoir, the world's most famous living scientist opens up about the personal trauma of his time with Jane Wilde, a girl he met at Oxford, and then with his nurse Elaine Mason, with whom he had a "passionate and tempestuous" relationship.
For more than half a century, Professor Hawking, 71, has juggled with some of the biggest questions in science while struggling with an illness that has left him almost completely paralysed. He has suffered from motor neurone disease since he was 21, when he was expected to live no more than a few years, but both women saved his life several times.
Jane lifted him out of deep depression when he was first diagnosed with the debilitating neurological condition, providing the hope of a future life and family, while Elaine came to his rescue more than once with her expert nursing skills, he writes.
In My Brief History, however, he also discloses how Jane became more depressed after the birth of their third child, in 1979, and found it difficult to cope with the demands of a young family and a husband in a wheelchair.
"She was worried I was going to die soon and wanted someone who would give her and the children support and marry her when I was gone," Hawking writes.
"She found Jonathan Jones, a musician, and gave him a room in our apartment. I would have objected, but I too was expecting an early death and felt I needed someone to support the children when I was gone."
Jane had not let Swiss doctors turn off Hawking's life support on a visit to Geneva in 1985 when he developed pneumonia, and the additional stress of nursing him back to health told on their relationship. Hawking, meanwhile, became increasingly unhappy with her close relationship with Jonathan. "In the end I could stand the situation no longer, and in 1990 I moved out to a flat with one of my nurses, Elaine Mason," he says.
In 1995, Hawking married Elaine. But within a few years his second marriage also came under strain and they divorced in 2007 - but not before Cambridgeshire Police had investigated allegations of abuse by his wife, claims he described as false.
"My marriage to Elaine was passionate and tempestuous. We had our ups and downs, but Elaine's being a nurse saved my life," Hawking writes.
In his book, he also recounts his early childhood and student days at Oxford, through to his breakthroughs in the study of black holes and quantum theory. His early love of toy trains evolved into an urge to understand how things work, and to bask in the power of such knowledge.
"If you understand how the universe operates, you control it, in a way," Hawking says in the memoir, which he wrote at a painstaking speed of about one or two words a minute by twitching his deteriorating cheek muscles at a movement detector attached to a computer screen.
It was in his best-seller A Brief History of Time that Hawking raised the possibility of physicists coming up with a "theory of everything" to explain all the forces of nature, and "then we would truly know the mind of God". The book, first published in 1988, sold 10 million copies.
A voice for the future
Stephen Hawking, who speaks through a speech synthesiser, reveals that there are just three machines left in the world that can give him his distinctive voice - and that he has bought them all in case any of them fail.
Professor Hawking has had to rely on the device since the 1980s after he had an emergency throat operation.
He chose a synthesiser made by a Californian company called Speech Plus which has since gone into liquidation and has lost its original software.
Hawking says he has shunned more natural voices in favour of his synthesiser's heavily accented speech, which has been variously described as giving him a Scandinavian, American or Scottish inflection.
"If you have a slurred voice, people are likely to treat you as mentally deficient. This synthesiser was by far the best I had heard because it varies the intonation and didn't speak like one of the Daleks in Doctor Who," he writes.
"I now have the last three remaining synthesisers. They are bulky, use a lot of power and contain chips that are obsolete and can't be replaced," he says.
- Independent