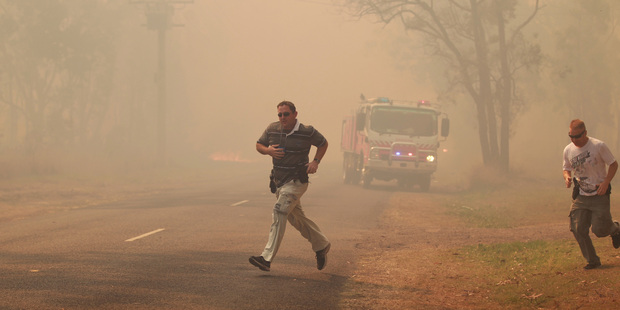 As firefighters continued their battle to contain fires raging near Sydney, the danger yesterday moved north to Queensland amid warnings Australia could again be heading for a deadly summer.
The fire season has begun earlier than usual after a run of record temperatures and the threat that hot, dry days will exceed long-term trends in the coming months.
Climate scientists have warned the continent is heating steadily and that the number of days of very high or extreme fire risk will increase significantly.
Disasters such as Victoria's 2009 Black Saturday will become more frequent.
The ferocity and scale of this week's fires, less than two weeks into spring, have alarmed authorities.
"Summer is three months away, but the fire season is with us now," New South Wales Police and Emergency Services Minister Mike Gallacher said.
Almost 1200 bush and grass fires had already burned through the state in the past month when this week's firestorms erupted. At their peak on Tuesday firefighters were attacking 63 outbreaks, the worst near Sydney.
Yesterday 20 were still burning out of control, four on the outskirts of Sydney and in the Blue Mountains. One home was lost, cars and outbuildings were destroyed, hundreds of hectares burned out, and six firemen were treated for serious smoke inhalation.
Residents were evacuated as fire fronts, driven by strong, hot winds and temperatures in the 30s, raged through the Hawkesbury, Marsden Park, Londonderry and Winmalee areas.
The threat eased yesterday as conditions improved, but fires continued to burn through heavily bushed country.
Locals told harrowing stories to ABC radio. A tree felled by the fire crashed through Winmalee resident Paddy Craddock's home after he was evacuated.
"I'm lucky to still have a house. I didn't know whether I'd have a house or not."
Tara and Simon Alburyl, also of Winmalee, herded their animals inside their house and endured searing temperatures and smoke that made breathing hard.
They watched as the flames overtook a fire truck.
"I just saw the fire roll up through the bush into the backyard and straight over the top of the truck and got the firefighter who was standing this side of the truck," Tara Alburyl said.
In Queensland, authorities warned of similar danger over the next few days.
More than half the state faces a very high fire danger, especially the 1000km coastal strip between the NSW border and Mackay .
Authorities around Australia are warning people to immediately prepare bushfire plans.
They have also warned about the risk of hazard reduction burns getting out of control, and of campfires and operating machinery in dangerous conditions. Penalties include heavy fines and the possibility of jail.
NSW fire officials are investigating the possibility that some of this week's fires resulted from out-of-control hazard reduction burns. More than 350 burns broke their boundaries in the past month.
Authorities are also on high alert for arsonists, who light about half the 54,000 bushfires across Australia every year. With bushfire arson costing about A$1.7 billion annually, penalties are heavy, rising to life sentences.
Volunteer firefighter Brendan Sokaluk, 42, was jailed for 17 years on 10 counts of arson causing death after the Black Saturday fires.
The past 12 months were Australia's hottest on record - and worse is in store. The most recent assessment by the Intergovernmental Panel on Climate Change said that in southeastern Australia the frequency of very high and extreme fire danger days was likely to increase by up to 25 per cent by the end of the decade, and up to 70 per cent by 2050.