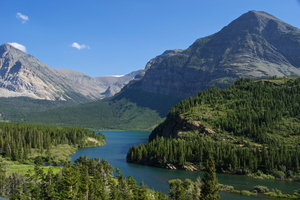 A newlywed wife has been charged with murdering her husband by pushing him off a cliff eight days into their marriage because she was "having second thoughts".
Jordan Linn Graham, 22, is alleged to have argued with Cody Lee Johnson, 25, as they hiked in Glacier National Park in the US state of Montana, before shoving him over a precipice.
Shortly before the incident Graham sent a number of text messages to a friend saying that she was having reservations about her marriage, and that she was about to talk to her husband about it.
In one, she said: "Oh well, I'm about to talk to him. But dead serious if you don't hear from me at all again tonight, something happened."
Johnson vanished on July 7 and his widow told police that the last time she saw him he had been heading off for a drive with a friend from their home in Kalispell, close to the national park.
Four days later she reported finding his body below a hiking trail. Park rangers said it seemed unusual she had found the body in an area so steep and rugged that it had to be recovered by helicopter.
She later admitted lying and told FBI investigators that she had been with her husband on the trail when he died.
She said there had been an argument, her husband grabbed her arm, she pushed him and he fell.
A friend of Johnson's family told the Missoulian newspaper that "nobody is shocked at all" that his widow was suspected of murdering him.
Tracey Maness, added: "She'd been telling people she knew she never wanted to be married, she just wanted to have a wedding, and that's apparently what they were arguing about. She showed no grief and she would not speak to Cody's mother."