Consul-General in New York loses his job and senior Labor figures want Rudd gone.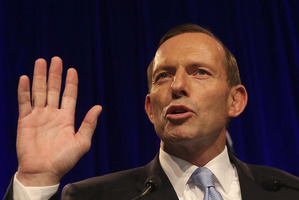 Canberra has become a political construction site, with Prime Minister-elect Tony Abbott clearing out the offices of government and Labor picking over the wreckage to rebuild a shattered party.
Abbott is already setting to work on dumping Labor's carbon and mining taxes, and yesterday turned his guns on people smugglers with moves to launch a military-led taskforce to stem the flow of asylum seekers from Indonesia. "Their game is up," he told Channel Nine. "It's all over for them."
His incoming Foreign Minister, Julie Bishop, was also wielding the knife, sacking former Victorian Labor Premier Steve Bracks as Consul-General in New York, a post he has only just assumed. Senior Labor MPs said the sacking was "petty and vindictive".
Meanwhile, blades were being sharpened before Labor's first caucus meeting in Opposition this Friday, at which ousted Prime Minister Kevin Rudd will formally resign as leader. While Rudd has said he intends to remain as member for the Brisbane seat of Griffith, a number of Labor figures want him gone from Parliament altogether.
They include party elder Simon Crean, and former ministers Stephen Smith, Greg Combet and Craig Emerson. Emerson told ABC TV that Rudd had destabilised Crean and Kim Beazley when they were Opposition Leaders, and Julia Gillard as Prime Minister. "You should never reward treachery."
So far no one has put a hand up for Rudd's old job, historically seen as a poisoned chalice after a defeat at the polls. Former Deputy Prime Minister Anthony Albanese and former Education Minister Bill Shorten are the front-runners. Both remain undeclared contenders, but Shorten is emerging as the most likely successor.
And yesterday the confusion and anger around the likely election of a hodge-podge of micro parties to the Senate spread to the Lower House.
Mining magnate Clive Palmer, despite leading by a whisker in the continuing count in the Queensland seat of Fairfax, believes he has no chance of winning because of "irregularities ... [in a] corrupt system".
He said his likely two new Palmer United Party senators would vote to block Abbott's planned legislation if the Coalition did not agree to electoral reform.
Abbott's priorities are to decide on his Cabinet and have them sworn in next week, to set in place legislation to repeal the carbon and mining taxes, and to stop the boats with his new Operation Sovereign Borders.
His Cabinet will hold few surprises. Most of his senior shadow ministers will be confirmed in their new jobs.
Abbott has already spoken to Papua New Guinea Prime Minister Peter O'Neill about the continued use of Labor's asylum-seeker detention centres, and is working on the details of further, tougher moves.