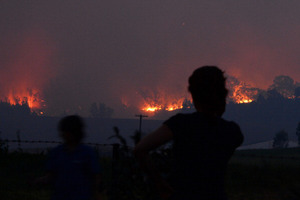 Bushfires had destroyed at least two New South Wales houses last night and injured two firefighters.
The NSW Rural Fire Service says one house has been lost on Hawkesbury Rd at Winmalee, in the Blue Mountains, and two firefighters battling the blaze suffered minor burns.
A second house has been confirmed lost in Marsden Park in the Blacktown area, in Sydney's west.
Five firefighters have been treated for smoke inhalation.
Briefing the state Parliament, NSW Premier Barry O'Farrell said 59 bush and grassfires were burning across NSW, with more than 500 firefighters and 200 appliances on the ground.
Deputy Commissioner Rob Rogers said having so many fires in such a concentrated area around Sydney's greater west was a challenge.
"As far as the crow flies they're all not that far apart," he told Fairfax Radio.
"Unfortunately, I think we'll probably see some more losses before the end of the day."
Pupils were taken out and Winamalee High School was being used as a centre for residents of the small Blue Mountains town of Hawkesbury Heights.
In Castlereagh, about 300 students from St Paul's Grammar School were evacuated to Penrith's Whitewater Park after an emergency warning was issued for a fire threatening properties on nearby Devlin St.
Sisters Melinda and Samantha Millard, from Horsley Park, rushed to Castlereagh to help horse trainer friends only to be told it was too dangerous. Melinda said her friends were at the heart of the fire zone trying to save their horse training facility.
"It's scary, it's not even my place, but knowing it could go any minute now is making me really emotional" she said. "We want to help people and the animals."
More than 2000 people were evacuated from a University of Western Sydney (UWS) campus after a power outage affecting the entire Richmond area.
The RFS has issued emergency warnings for fires around the greater Sydney region, including Marsden Park and Windsor.
The warm 50km/h winds fanning the fire are likely to ease today, a Bureau of Meteorology spokesman told AAP.
Residents from Windsor in Sydney's northwest were confronting a bushfire just metres from their homes.
Smoke billowed over Windsor Downs Nature Reserve as helicopters and crews battled grass fires fanned by winds up to 80km/h.
- AAP