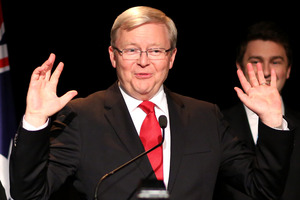 Shattered by its worst vote in almost 80 years, the Australian Labor Party is set to start with a new generation tasked with shaking free of past demons.
Outgoing Prime Minister Kevin Rudd has fallen on his own sword ahead of a compulsory leadership spill that he would have lost amid bitter recriminations.
Former Prime Minister Julia Gillard has also quit, along with a clutch of senior ministers and supporters bloodied by the internal wars that tore the party to shreds and sealed its doom on Saturday.
Labor has never been good at forgiving. Retribution will be sought.
Voters have done their bit, dumping at least 15 MPs and handing incoming Liberal Prime Minister Tony Abbott solid control of the House of Representatives.
There is some small comfort that the toll of Labor MPs was not as high as widely expected. More significantly, much of its rising talent escaped the knife to survive in marginal seats.These include outgoing Treasurer Chris Bowen, Home Affairs Minister Jason Clare and Employment Participation and Early Childhood Minister Kate Ellis.
All will be central to the reconstruction of a new party.
Old warhorses of the Bob Hawke era are finally heading to pasture: former leader Simon Crean and long-time Minister Martin Ferguson have quit.The swag of other retiring MPs includes former Climate Change Minister Greg Combet, Defence Minister Stephen Smith, Trade Minister Craig Emerson, School Education Minister Peter Garrett, sacked Attorney-General Robert McClelland and his successor, Nicola Roxon.
Who will now lead Labor has yet to emerge.
Former Education Minister Bill Shorten is seen as a front-runner for the job, capping a stellar rise through Labor's parliamentary ranks.
Shorten told ABC TV yesterday he had still not made up his mind whether to run.Other possible contenders include Bowen and outgoing Deputy Prime Minister Anthony Albanese. He said: "I didn't think about post (election) scenarios - there's time to do that now."
Outgoing Finance Minister Penny Wong and Health Minister Tanya Plibersek are considered potential deputies.
The party will demand a new, harsh broom.
Slamming the "dance of death" between Rudd and Gillard, Clare told Channel 10: "It's up to people like me, this next generation of Labor politicians to build the basis of a new government and earn the people of Australia's respect."
Combet said it was time for disunity to end. "You can't have two people in a political party vying for the leadership all the time, undermining going on, conniving with journalists and News Limited and all the rest to damage your own party, drive down its own vote, undermining your own leader, criticising colleagues in the press," he said.