An impossible idea 20 years ago, the time has perhaps come for the buffalo to roam freely again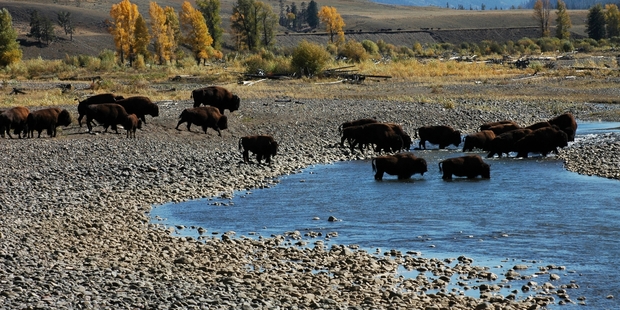 When Frank and Deborah Popper, a pair of academics from New Jersey, published The Great Plains: From Dust to Dust, A Daring Proposal for Dealing with an Inevitable Disaster in 1987 they ignited a fiery debate that still resonates.
In a region with big skies and big dreams, the Poppers' vision was epic: the past century of settlement had been delusional, a disaster, doomed by endless boom-and-bust cycles, soil depletion, depopulation and Government subsidies, "the longest running agricultural and environmental miscalculation in history".
The best option was to create a "Buffalo Commons", a fenceless, back-to-the-future vision where the Great Plains, a huge steppe that sprawls over 10 US states and three Canadian provinces, became an American Serengeti, with a service economy based on tourism.
The Poppers envisaged the "world's largest historic preservation project", 360,000 square kilometres "largely empty of humanity, biologically teeming and unexploited".
Government buy-outs, linked to existing grasslands, wildlife refuges and Indian reservations, would form a vast range, planted with deep-rooted, drought-resistant native grasses, for buffalo and to create a sustainable economy. Otherwise, the region would become a wasteland.
Their idea went down badly. "It was distinctly hostile. No question," says Frank Popper, head of urban studies at Rutgers University, recalling a speaking tour where locals shouted them down. "Especially in Montana."
A buffalo-based economy was considered heresy. "It's like bringing in someone from Nazi Germany to talk about population control," fumed one politician. Police protection was sometimes needed on speaking tours.
"The early days were very bizarre," says Deborah Popper, a Princeton geography teacher. "We were seen as powerful people who could do things. Of course, we had absolutely no power. All we had were words."
The notion of a buffalo commons was not new. George Catlin floated the idea, albeit populated by the nomadic Indians he painted, in 1841. But whites were absent in Catlin's West. The Poppers addressed people whose forebears supplanted Indians and buffalo. Who felt threatened by Eastern Cassandras, talking of catastrophe. Besides, a federal buyout was anathema.
What a difference a generation makes.
Two decades after death threats caused the Poppers to cancel a talk in Montana, an ambitious scheme for a 1.4 million-hectare buffalo range, as part of a revived native ecosystem, is emerging in the state's northeast.
The American Prairie Foundation plans to acquire 202,000 hectares and link 1.2 million hectares of public land, along with the Charles Russell National Wildlife Refuge, into the contiguous American Prairie Reserve.
So far the foundation has acquired 110,000 hectares and a quarter of the US$500 million ($634 million) needed to manage the reserve. Land in this marginal, dry area, where ranches often need Government subsidies, is relatively cheap. A fifth of donors live in Montana. The APR aims for 5000 bison by 2026.
"The momentum's building," says Damien Austin, the reserve supervisor, "both in the opportunity to raise money and also in land purchases".
The National Geographic Society, one of many backers, calls this "one of the most ambitious projects in American history". The APR says 5000 square miles will create a "fully functioning ecosystem," able to support biodiversity and survive wildfires, diseases and extreme weather. The free-roaming bison population will be managed by hunters. About 95 per cent of the reserve's area was never ploughed and is rich in plants and wildlife.
"We're trying to get things back in line with what Lewis and Clark found when they first got to this area," explains Austin. The famous 1804-06 transcontinental expedition found Montana teeming with bison, elk, deer, antelope, big horn sheep, grizzly bears, wolves, cougars and other wildlife. The APR wants 10,000 bison. It faces deep-seated prejudices; many ranchers enjoy cheap grazing rights on federal land and view buffalo as competition for scarce grass. They also associate buffalo with brucellosis. The APR herd, around 270 buffalo, is brucellosis free and genetically pure, with no cattle genes.
Austin is philosophical. "Change is always hard, but polls show a majority of Montanans support a free-roaming population of animals they can hunt. That's definitely a change from 20 years ago."
The APR is one of many bids to restore Great Plains habitat and "re-wild "the West, reintroducing prairie dogs, wolves, grizzly bears, even, it is hoped, jaguars. Television tycoon Ted Turner, who created the CNN network, stocks his ranches with buffalo as do Indian tribes on reservation land.
Do the Poppers sense vindication? "When we wrote that article we had everything on our side: history, ecology and economics," says Frank. "Everything but politics." But attitudes are thawing; banks are making loans to buffalo ranchers and state farm agencies tender advice. Cows need costly hands-on care in a region of climate extremes. No frills buffalo survive on little water and even adjust their birth rate. Buffalo ranchers supply a growing niche market for the protein rich, low fat, low-cholesterol meat.
Meanwhile, while vast swathes of the high lonesome remain empty, littered with decaying towns that evoke The Last Picture Show, the plains to the northeast of the APR are experiencing the latest boom, driven by hydraulic fracturing as the energy industry exploits large oil and natural gas deposits.
A Nasa satellite image shows a blaze of light amid immense darkness, cast by rigs above the Bakken Formation in North Dakota and Saskatchewan.
"After a long period of out-migration some parts of the Great Plains - from just south of the Canadian border all the way down to West Texas - are experiencing rapid population growth," the US Census Bureau said in March. But fracking has not stopped decline; in 2011 the National Centre for Frontier Communities classified 46 per cent of the US, mostly in the West, as "frontier" - less than six people per square mile. The Ogallala Aquifer, which underpins agriculture in the West, is being drained. "In the Plains, the frontier is not only surviving, it is expanding," write the Poppers.
While the APR lies south of the boom, unexploited oil and gas deposits lie closer but are seen, so far, as costly to extract.
Unlike the fracking bonanza, a throwback to the old extractive industries of the 19th century, the APR wants to enrich biodiversity across a vast area. It is the antithesis of Manifest Destiny, the bid to conquer nature and turn the plains into a vast farm linked to world markets. But as climate change makes Great Plains weather even more extreme, dreams of permanent conquest are fading in rural areas where settlement has proven illusionary.
The Poppers still head west to give talks, enthusiasm undimmed, although they stress private enterprise, not federal buy-outs. To some extent the West has caught up with them.