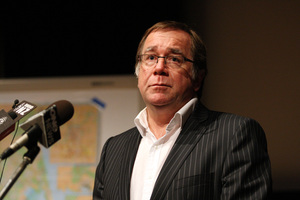 Foreign Minister Murray McCully says the Opposition will be offered a formal briefing on Syria before any parliamentary motion is put by the Government.
"There will be a point in the coming week where it will be appropriate,'' he told reporters in the Marshall Islands where he is attending the Pacific Islands Forum.
Labour foreign affairs spokesman Phil Goff called for more information in the wake of a request from the United States for New Zealand to lend moral support to a military strike against the Syrian Government in response to chemical warfare attacks on civilians.
Mr McCully said there was a growing body of evidence, added to by France overnight, as to the use of chemical weapons and who was responsible.
"To the extent there is any private information about that from partners, all I can say is it simply adds further weight to what's in the public arena.''
The Government would consider the request to offer a view on action in Syria carefully because New Zealand was seen as fair, constructive and impartial on such matters, he said.
He and Prime Minister John Key have expressed a strong preference for the United Nations Security Council to reach agreement on Syria but they have not ruled out supporting action that is not sanctioned by the Security Council.
New Zealand had no intention of making any military commitment into Syria, Mr McCully said.
In the aftermath of the withdrawal of defence and police personnel from Afghanistan, Timor Leste and the Solomon Islands, Mr McCully, Defence Minister Jonathan Coleman and Police Minister Anne Tolley were drawing up a cabinet paper on the future direction of New Zealand peacekeeping efforts.
It would put the "very highest priority in our own region,'' Mr McCully said.
"We would never as a country commit to anything that left us unable to respond to requests at home.''
Mr Goff moved a motion passed in Parliament on Tuesday without dissent saying: ``That this House condemns the use of poison gas in Syria in contravention of international law which has resulted in the indiscriminate and horrific deaths of hundreds of civilians, including children, and calls on all members of the United Nations Security Council to agree on action that will bring those responsible to account, result in a United Nations supervised destruction of all chemical weapons in that country and stop the supply to the warring parties of weapons which are fuelling the conflict.
- APNZ