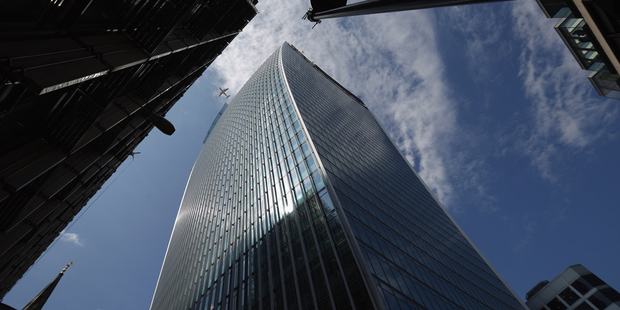 Developers have promised urgent action to cover up the Walkie Talkie skyscraper being built in the City of London after an ultra-bright light reflected from the building melted a Jaguar car on a street below.
The 160m tall, £200 million ($397 million) building has been renamed the Walkie Scorchie after its distinctive concave surfaces reflected a dazzling beam of light which blinded passersby and extensively damaged vehicles below.
Company director Martin Lindsay left his Jaguar XJ for an hour opposite the building, and returned to find warped side panels and the smell of burning plastic.
"They're going to have to think of something. I'm gutted," he said.
Eddie Cannon, a heating engineer, said his Vauxhall Vevaro suffered similar damage: "Every bit of plastic on the left side and everything on the dashboard has melted, including a bottle of Lucozade that looks like it's been baked."
Passersby have been forced to avert their eyes from blinding rays off glass windows recently installed on the south side of the 37-storey building, designed by Uruguayan architect Rafael Vinoly.
Ali Akay, of Re Style barber's, said the position of the sun at a certain time of the day caused a searing bolt of sunlight to start a small fire and burn a hole in his company doormat.
He said: "We were working and just saw the smoke coming out of the carpet. We tried to cut the fire down, there were customers in at the time and they were obviously not happy.
PR consultant David Banks who felt the force of the intense beam, said: "It's like a huge lens. It's magnifying the sunbeam, like frying ants with a magnifying glass."
A joint statement from developers Land Securities and Canary Wharf said: "The phenomenon is caused by the current elevation of the sun in the sky. It currently lasts for approximately two hours per day.
"As responsible developers we are making every effort to keep local businesses informed and we have communicated with them regularly since the issue first appeared. While we investigate the situation further we have liaised with the City of London to suspend three parking bays in the area which may be affected.
"In addition, we are consulting with local businesses and the City to address the issue in the short-term, while also evaluating longer-term solutions to ensure the issue cannot recur in future.''
- Independent, with AP