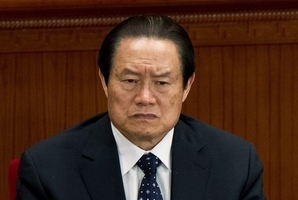 China's top leaders have endorsed a corruption investigation into a former security czar who was once one of the country's most powerful politicians - the topmost official targeted so far in a sweeping anti-graft campaign, a Hong Kong newspaper reported yesterday.
The respected English-language newspaper South China Morning Post, quoting sources "familiar with the leadership's thinking", said China's current and retired top leaders reached the decision in early August in a secretive meeting at a seaside resort town to investigate Zhou Yongkang, who oversaw China's judicial system and served on the Politburo Standing Committee, the apex of political power.
It has been several decades since a Politburo Standing Committee member has been investigated for economic crimes. The investigation into Zhou, who retired from the panel last November, may illustrate the new leadership's resolve to exempt no one in its fight against corruption.
While sources told the Post the investigation against Zhou is not politically motivated, Zhou has been considered a close ally of disgraced politician Bo Xilai.
Bo stood trial this month on charges of taking bribes, embezzlement and abuse of power and is awaiting a verdict. Before Bo's fall, it was widely believed that Zhou was grooming him as his successor.
- AP