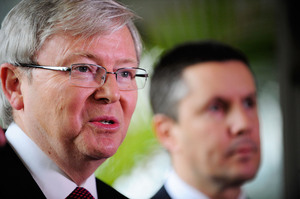 Prime Minister Kevin Rudd has led Labor into the fraught ground of foreign investment as he battles to politically survive the election.
While largely confined to territory held solidly by the Liberals or their rural-based junior coalition partner the Nationals, the question of control of the nation's land and resources ignites passions that run into the major cities.
It also touches tensions within the Opposition, pitting Liberal free-marketers against the Nationals' demands for greater restrictions and controls on foreign investors. They forced a compromise position ahead of September 7.
Labor has forged a policy of encouraging overseas capital, but faces strong reservations within the party. The Greens want far tougher regulation, including a ban on all investment in agricultural land and water by wholly owned subsidiaries of foreign governments.
China, the most common target for opponents of foreign control, bridles at what it sees as demonisation and at any suggestions that tougher restrictions could be imposed.
China's state-owned Shenhua Watermark Coal last year spent about A$200 million ($229 million) to buy 43 farms on prime agricultural land in New South Wales. China is already Australia's third-largest overseas investor.
Any toughening of the rules would also run against trade agreements with New Zealand and the United States, whose investors enjoy far greater leeway than those of other countries.
Opponents are alarmed at the scale of foreign ownership. More than 44 million hectares of farmland are held fully or in part by overseas interests. They also own half of the nation's wheat exporters, process about half its milk, control 60 per cent of raw sugar production and process about 40 per cent of red meat output.
Under pressure, Labor will carry out a stocktake of existing foreign ownership and introduce a register of foreign-owned property.
Opposition leader Tony Abbott, prodded by the Nationals, has agreed to also provide a register of land and agribusinesses held by overseas interests. He has further promised to reduce the trigger for a Foreign Investment Review Board determination on national interest from A$248 million to A$15 million.
The threshold for New Zealand and the United States is A$1 billion.
But both major parties believe foreign capital is essential, and encourage foreign investment to support and create jobs, encourage innovation and new technologies, and help win access to global markets.
Rudd opened this can of worms during Wednesday night's final campaign debate with Abbott, when he confessed to being "a bit anxious about simply an open-slather approach" to foreign purchases of agricultural land.
"What would our policy approach be?" he said. "I am looking very carefully at how this affects the overall balance of ownership in Australia.
"We need to take a more cautious approach to this in the future without throwing the baby out with the bathwater, and I think ... we need a better joint venture approach."
Politically heady stuff. Reflecting earlier polls, the ABC's Vote compass found that 76 per cent of Australians support tighter controls on foreign investment. Rudd's view also shadows that of outspoken north Queensland MP Bob Katter, who will preference Labor in a deal that will help bolster the Government in the state.
But Rudd appears to have been committing Labor from the top of his head. There has been no consultation within the Government, and Agriculture Minister Joel Fitzgibbon said yesterday there were no plans to change existing rules: "We don't want to send foreign investment running, nor do we want Australians concerned about levels of foreign investment."
Meanwhile, Rudd has accused the Opposition of "fraud" after finding an A$10 billion black hole in its proposed savings of A$31.6 billion should the Coalition win.
Rudd said there were "deep questions" about Abbott's truthfulness after an independent analysis revealed the figures don't add up.
Abbott said the figures were produced by the parliamentary budget office and validated by three distinguished public finance experts.
- additional reporting AAP