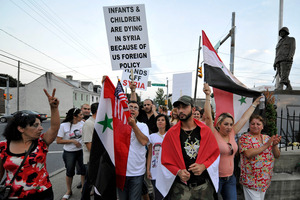 A British and American attack to punish Syria for using chemical weapons will see the two allies launch a barrage of more than 100 missiles in a blitz lasting up to 48 hours, according to military insiders and diplomatic sources.
A Royal Navy Trafalgar class submarine will join forces with American warships in the Mediterranean to fire Tomahawk cruise missiles in an attack that is likely to begin within days.
The missiles would be unleashed to destroy President Bashar al-Assad's command and control facilities, weapons delivery centres, intelligence bases and militia training camps.
Military commanders sealed agreement on the scope of attacks with regional allies and the Syrian opposition, officials at a two-day summit in Amman said yesterday.
The two day meeting in Jordan saw General Martin Dempsey, the chairman of the US joint chiefs, and General Sir Nick Houghton, the head of Britain's Armed Forces, set out detailed war plans to service chiefs from 10 countries.
A Jordanian official said: "There was consensus that the international community must take action in Syria and that missile strikes by naval or air forces would be the best response."
The attack would be strictly limited to punishing the Assad government for using chemical weapons, rather than designed to tip the balance in favour of the rebels and destroy his government.
The first salvoes would be fired from US and British submarines currently deployed in the Mediterranean and four American destroyers positioned in the area.
American forces would launch the vast majority of missiles, but the Royal Navy is understood to have a Trafalgar class sub "ready to go" which can fire missiles from its torpedo tubes while submerged, sources said.
Proposals have also been drawn up for "stand-off" strikes by warplanes firing missiles from outside Syrian airspace to avoid the regime's extensive air defences.
A senior Free Syrian Army official who defected from the regime's air force, said: "The important places that will be attacked include the significant weapons depots, the headquarters of top military units, missile launch sites, the runways of military airports and the air defences."
President Barack Obama is believed to favour a campaign of up to 48 hours. Obama remains extremely wary of mission creep and is resolutely opposed to "boots on the ground"or even imposing no fly zones. The US also does not want Assad to lose control of his chemical weapons stockpiles to extremist rebels - the goal is to prevent him using them again.