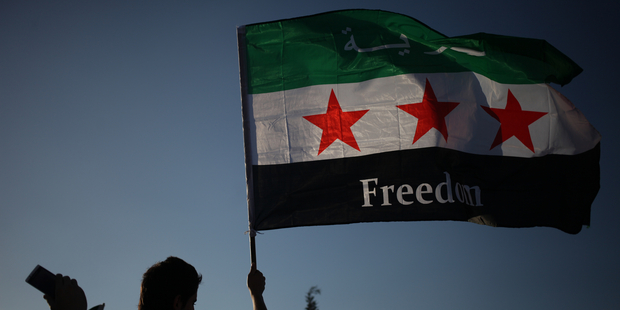 Any international action on the Syrian crisis should be mandated through the United Nations, Foreign Minister Murray McCully has emphasised.
His comment comes after Prime Minister John Key said intervention by US without sanction from the UN Security Council may be inevitable.
Mr McCully said the "grisly pictures and reports of chemical weapons attacks in recent days have prompted consideration of a range of options in various parts of the world".
"The New Zealand Government remains committed to the Security Council as the appropriate vehicle to address this crisis. It has a clear legal basis for taking action and a clear responsibility to show leadership."
Mr McCully said that was in spite of the fact it was clear that international patience with that forum was wearing thin.
He urged it to "show leadership and to take action against the reported use of chemical weapons".
The Ministry of Foreign Affairs was "engaged in the exchanges that are taking place" involving the Security Council, which New Zealand is currently seeking to join.
New Zealand had "a very close interest in information verifying the use of chemical weapons in Syria and in evidence proving who was responsible" but would not engage in "speculation or commentary about the way forward".
Labour's foreign affairs spokesman Phil Goff called on Russia, which has so far used its right of veto on the Security Council to block UN action against the Syrian regime, to rethink its position.
"In the face of strong evidence that the Assad regime has used poison gas against its people no country on the UN Security Council with the power of veto should exercise that power to prevent effective action being taken."
Russia has a naval port in Syria and a substantial arms trade with the regime of Bashar al-Assad.
"Putting vested interests ahead of the urgent need for action against a regime which launches chemical weapons against its own civilians is unacceptable and Russia should think carefully about that", Mr Goff said.
"Stopping effective action would rightly draw condemnation from countries across the world."
However he said while unilateral action involving missile strikes against Syrian military bases might be an understandable reaction, "it is a poor substitute for effective multilateral action to isolate the Assad regime, and implement steps to supervise its replacement and hold it to account for crimes against humanity".
"Quick military fixes do not automatically result in lasting political solutions as recent experience in Iraq and Libya shows."
UNITED STATES 'READY TO GO'
Meanwhile, the United States pledged to release its intelligence findings into the Syria chemical attack this week, but said it was "preposterous'' that anybody would blame anyone other than the Assad regime.
Underlining signals that an expected US military action would be of limited scope, the White House said it was not seeking to bring about "regime change'' in Syria and refused to say whether it would seek a UN mandate to strike.
White House spokesman Jay Carney said there "should be no doubt, for anyone who approaches this logically, that the Syrian regime is responsible for the use of chemical weapons on August 21 outside Damascus.''
"Suggestions that there is any doubt about who is responsible for this are as preposterous'' as arguments that the attack did not take place, he said.
Carney's comments seemed to be a new US swipe at Syria's ally Russia, which has cast doubt on US claims that President Bashar al-Assad's regime was responsible for the horrific chemical attack on civilians last week which is believed to have killed hundreds of civilians.
- What's the evidence likely to be? -
A US official said some of the evidence includes signals intelligence information gathered from intercepted communications. The US assessment is also based on the number of reported victims, the symptoms of those injured or killed and witness accounts.
The officials insisted on anonymity because they were not authorised to publicly discuss the internal deliberations.
It's unlikely international military action would begin before Thursday. That's when British Prime Minister David Cameron will convene an emergency meeting of Parliament where lawmakers are expected to vote on a motion clearing the way for a British response to the chemical weapons attack.
- Who's likely to back the US? -
International support was growing. In Paris, President Francois Hollande said yesterday that France is "ready to punish those who took the heinous decision to gas innocents."
And the Arab League, a 22-member body dominated by Saudi Arabia and Qatar, also called for justice, laying blame for the attack on the Syrian government.
Obama discussed the situation in Syria on yesterday with Prime Minister Stephen Harper of Canada, a NATO ally. The president has also spoken with Cameron, Hollande and Australian Prime Minister Kevin Rudd in recent days, and Vice President Joe Biden spoke Tuesday with Britain's deputy prime minister, Nick Clegg.
Officials said the international community was considering action that would punish Assad for deploying deadly gases, not sweeping steps aimed at ousting the Syrian leader or strengthening rebel forces. The focus of the internal debate underscores the scant international appetite for a large-scale deployment of forces in Syria and the limited number of other options.
- What military action could the US see? -
The most likely military response would involve sea-launched cruise missile attacks on Syrian military targets. The White House is also studying legal justifications for taking such steps without approval from the United Nations, where Russia is certain to block action at the Security Council.
Italy, meanwhile, is insisting that any strike should be authorised by the Security Council.
- How quickly could the US strike? -
US military forces stand ready to strike Syria at once if President Barack Obama gives the order, Defence Secretary Chuck Hagel has said.
Hagel told BBC television yesterday that the Defence Department has "moved assets in place to be able to fulfill and comply with whatever option the president wishes to take."
The Navy has four destroyers in the eastern Mediterranean Sea within range of targets inside Syria. The US also has warplanes in the region.
"We are ready to go," Hagel said.
Hagel said "to me it's clearer and clearer" that the Syrian government was responsible, but that the Obama administration was waiting for intelligence agencies to make that determination.
Hagel was interviewed during a visit to the Southeast Asian nation of Brunei. While there, Hagel spoke by phone about Syria with his counterparts from Britain and France. Hagel's press secretary, George Little, said, said Hagel "conveyed that the United States is committed to working with the international community to respond to the outrageous chemical attacks."
- Additional reporting AFP and AP