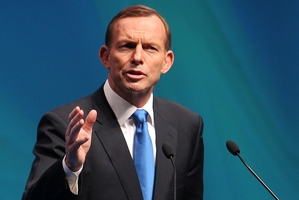 With Labor nudging itself off the floor, Opposition Leader Tony Abbott has turned to one of his most significant power bases - the nation's ageing but still restive baby boomers.
At his launch in Brisbane on Sunday, Abbott pitched directly to older Australians by meeting their demands for greater access to the seniors cards providing cheap medications, and promised A$200 million ($231 million) for dementia research.
Welcomed by seniors' advocates, the campaign pledges only partly offset the anger many retirees feel at Abbott's decision to slug them to help pay for his controversial and generous parental leave scheme.
Neither party can afford to ignore grey Australia. It has been stridently mobilising for this election with a list of priorities and warnings that parties ignoring them will suffer at the ballot box.
Their concerns affect not only retirees. They also reach down to Australians in their 50s facing the reality that their working lives are nearing an end - possibly sooner rather than later as jobs are shed with the slowing economy.
Many older workers will never find new employment.
Together, the over-50s represent 47 per cent of the nation's voters.
Winning their support will be important for both parties on September 7. Despite the consistency of polls pointing to a Coalition victory, a last-minute turnaround is not impossible.
"I've always said that winning government from opposition is like climbing Mount Everest,"' Abbott said yesterday.
The latest Newspoll published yesterday in the Australian said that Labor had managed to marginally pull itself back into the fight, recording its highest support since the campaign started three weeks ago. It narrowed the Coalition's lead to 53-47 per cent on the two-party vote that decides Australian elections, with Prime Minister Kevin Rudd similarly increasing his lead as preferred leader to 44-40 per cent.
The Newspoll result would still cost Labor 12 seats and deliver power to Abbott.
But a new Morgan poll, while still pointing to a Coalition victory, gave the Coalition a much closer 51.5-48.5 per cent two-party lead.
Another Morgan poll showed that older Australians would play a key role in electing an Abbott Government. While unpopular with the young, the Coalition held the support of about half of voters aged between 50 and 64, and 57 per cent of over-65s.
Abbott's health policy was welcomed by seniors' groups for promising faster access to new, subsidised medications, a new national diabetes strategy, and fast-tracking bowel cancer screening.
But seniors advocate COTA Australia said the policy did not go far enough in tackling such issues as the affordability of health care and services, mental health and end-of-life care.
There is also widespread anger at Abbott's plan to part-fund his parental leave scheme by refusing franking credits on the 1.5 per cent levy it intends charging the nation's 3000 biggest companies.
This would hit retirees' investment incomes by an average A$1000 a year.
Over-50s advocate National Seniors Australia says research has shown older Australians are foregoing basics such as food, medicines and heating to make ends meet.
Health costs are high on their priority list. With Australia's out-of-pocket healthcare costs the fifth-highest in the world, more than half a million over-50s spend more than 10 per cent of their incomes on health.