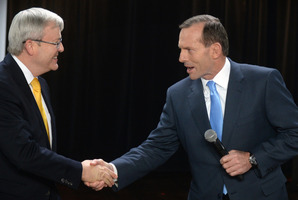 Put opinion polls aside for a moment. Psychologists at Queensland University have come up with a new predictor for picking the next prime minister of Australia.
After studying every campaign back to federation in 1901 they found that in 80 per cent of elections the leader who most used "we" and "us" in their speeches was victorious.
Their classic example was Labor Prime Minister Gough Whitlam, who out-we'd his rivals to win in 1972 and 1974, but lost after Liberal Malcolm Fraser won the we-ing contest in 1975.
Yesterday it was as if Opposition Leader Tony Abbott had taken the research to heart, heavily weighting his speech to the Liberals' campaign launch in Brisbane with "we" and "us" in a rousing address to the faithful.
With weekend polls tolling even greater doom for Prime Minister Kevin Rudd, Liberal strategists assigned the most ferocious attacks on the Government to Queensland Premier Campbell Newman, Nationals Leader Warren Truss, and Liberal Deputy Leader Julie Bishop.
Abbott's daughters Bridget and Frances changed the tone. "My dad looks out for everyone," Frances said. "I know he'll look out for you."
Abbott's speech was positive and inclusive, listing past Liberal successes and restating core promises: axing the carbon and mining taxes, cutting company tax and red tape, stopping the boats, and boosting roads and other infrastructure. He also announced new policies to give more retirees access to cheap medicines, increased funding for dementia research, and A$20,000 interest-free loans for apprentices.
"This election is about making a great country an even better one, and that starts with getting rid of the most incompetent Government in its history," Abbott said.
Rudd was summoned back to Canberra for an emergency briefing on Syria, also given to Abbott yesterday. Australia chairs the United Nations Security Council from September 1.
Rudd said the onus was on the regime of Bashar al-Assad to prove it was not responsible for the poison gas attack that killed hundreds of civilians in Damascus.
Any boost Rudd's diversion into international politics might have given his campaign was muted by Murdoch tabloids reporting he had delayed his return to Canberra to film an episode of ABC political reporter Annabel Crabb's cooking show.
Although Rudd denied the report, it dominated debate yesterday morning.
The Greens were also on the attack, launching their campaign on Saturday by distancing themselves from both Labor and the Coalition.
Leader Christine Milne warned that the Coalition needed only three more seats to win the Senate - the Greens at present hold the balance of power - and that her party alone stood between Abbott and "the kind of future that we envisage, caring for people and the environment".
Meanwhile, a Fairfax Nielsen poll said the Opposition had increased its lead to 53-47 per cent in the two-party preferred vote that decides Australian elections, while others found support for Labor slipping in Queensland and diving in New South Wales, Victoria and Tasmania.