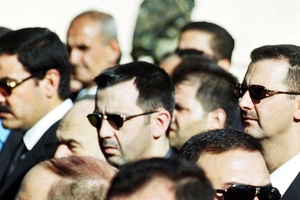 He hasn't been seen for over a year, remaining in the shadows while Bashar al-Assad has been Syria's public face.
But Maher al-Assad has in many ways played a more decisive role in the country's civil war than his elder brother, commanding its most formidable military division as it claws back losses and leading the defence of Damascus against an opposition that remains entrenched on the capital's outskirts.
The question many Syrians are asking, after last week's revelations of an apparent chemical attack on civilians in rebel-held areas, is what role the President's brother may have played in the atrocity.
Assad has remained a senior member of the Baath Party's central committee and a central pillar of the police state.
The 4th Armoured Division Assad commands has been a chief protagonist on behalf of the regime. Maher has acted as division commander since at least 2000, and at the same time leads Syria's other premier fighting force, the Republican Guards.
Both units were active again last week as loyalist forces launched their biggest operation yet to root out rebel groups from the capital.
It was while this operation was under way that thousands of residents of east Ghouta were exposed to what scientists believe was a nerve agent, possibly sarin.
The 4th Division has remained relatively unaffected by desertions and defections that plagued other divisions in the first 18 months of the war. Until about then - July 18 last year - Maher was visibly in charge.
His last appearance in public was several weeks before an explosion in a meeting room in central Damascus killed security chief, and the Assads' brother-in-law, Assef Shawkat. Also killed was the defence minister and several members of the inner sanctum.
Turkish officials believe that the younger Assad was wounded that day "but he is alive and functioning", said one senior Turkish diplomat. "And the 4th Division is still one of their better units."
- Observer