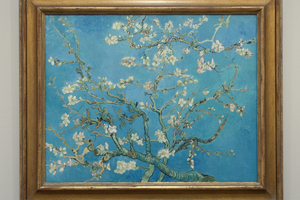 A poster of one of Van Gogh's sunflowers is one of the traditional adornments to a student bedroom. The rest of us hang our reproductions in the knowledge that even the good ones are far from faithful to the originals - for which the going rate is £24 million ($48 million).
But not any more. The Van Gogh museum in Amsterdam has developed high-quality 3D reproductions of some of its finest paintings, with what it describes as the most advanced copying technique ever seen.
Axel Ruger, the museum's director, said: "It really is the next generation of reproductions because they go into the third dimension. If you're a layman, they are pretty indistinguishable [from the originals]. Of course, if you're a connoisseur and you look closely, you can see the difference."
Each reproduction is priced at £22,000 - somewhat more than the cost of a poster. But the museum is hoping to increase access to pictures which would sell for tens of millions of pounds.
The 3D scanning technique has so far reproduced Almond Blossom, Sunflowers, The Harvest, Wheatfield Under Thunderclouds and Boulevard de Clichy. Further ventures into Van Gogh's back catalogue are planned.
Other museums are taking a close interest in the commercial potential of 3D, given that the Van Gogh museum expects to raise substantial funds from sales. The revenue will go towards renovations and the preservation of its collection.
The replicas, called Relievos, are being created by the museum in partnership with Fujifilm, with which it has had an exclusive deal for three years. Such is the complexity of the technology, known as Reliefography, that it has taken more than seven years to develop, and only three a day can be made.
It combines a 3D scan of the painting with a high-resolution print. The "super-accurate" reproduction even extends to the frame and the back of the painting. Every Relievo is numbered and approved by a museum curator. There is a limited edition of 260 copies of a painting.
Asked whether those who could afford to pay £22,000 would prefer an original painting, even if by an artist other than Van Gogh, Ruger said: "These are separate markets".
When the series was launched in Hong Kong last month, the museum's curators chose a shopping centre rather than a gallery. "There was enormous interest there. We had people who bought on the spot," said Ruger.
To ensure that no replica is passed off as the real thing, each is marked with an unbreakable seal.
- Observer