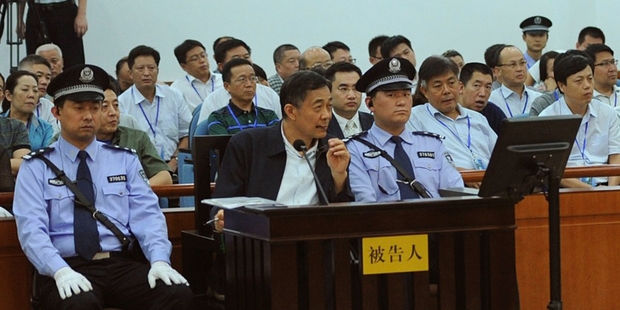 Bo Xilai, formerly one of the most powerful and charismatic men in Chinese politics, has admitted that his wife left him because he cheated on her.
The former Communist Party politburo member was forced to tell a tale of adultery, deception and bloodshed that culminated in the murder of Neil Heywood, a British businessman, and his own downfall.
The 64-year-old politician painted a picture of a dysfunctional household, telling his corruption trial in Jinan that his wife, Gu Kailai, had taken their son to Britain after discovering that he had been having an affair.
In what may eventually prove to be one of the seeds of his undoing, he also agreed to take "legal responsibility" for the fact that 500,000 ($996,000) of public money had made its way into his wife's account. Then, as the trial continued, he faced up to his formidable former police chief, Wang Lijun.
For the first time, Bo detailed the confusion and rage he felt when he learned that his wife might have been involved in the murder of Heywood, who had managed some of the family's overseas business.
"I failed to handle the situation calmly and, at the critical moment, I judged it wrongly," Bo told the court, apologising for Wang's flight to the US consulate in Chengdu that triggered China's biggest political scandal in decades.
"It affected the reputation of the party and the country. I am ashamed. I hold part of the responsibility for the incident. I am deeply ashamed," Bo said.
The court was told how Wang paid a visit to Bo - then boss of the megacity of Chongqing - on January 28, 2012, and told him for the first time that "some people had said Gu was "connected to the Heywood case".
However, when Bo returned home, Gu was adamant that Wang, until then her closest ally in Chongqing, had "slandered her", even producing a certificate from the police bureau saying the Briton had died of a heart attack. "I spent the whole night thinking," Bo said. "In my mind, Gu Kailai was a vulnerable woman who could not possibly have killed someone. There had been no conflict before between her and Wang. I felt he had some other scheme in his mind."
Bo said he confronted Wang the following day, asking him outright if he was trying to frame his wife.
Then, Bo set in motion the sequence of events which would eventually lead Wang to flee, seemingly for his life.
According to Bo, he slapped Wang in front of two subordinates and then smashed a glass. According to Wang, however, Bo walked up from behind his desk and punched him in the face.
A week later, Wang said he felt he had to flee after noticing that all of his colleagues, and everyone who had investigated Heywood's death, had suddenly gone missing. "It was very dangerous," he said.
Earlier during proceedings, Bo revealed that his wife rarely spoke to him and was keen to rely on him as little as possible.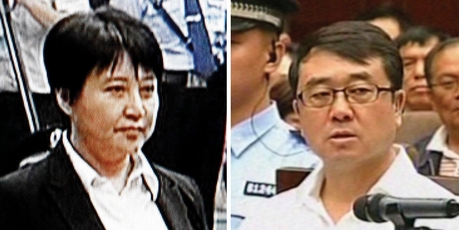 In 2000, Bo said, his wife had fled with his son after catching him cheating. "She simply arranged for Bo Guagua to go to a foreign school and left," he told the court. "She was angry with me over an affair. To some extent, the reason why they left was because she was really angry."
Jiang Weiping, a journalist who was imprisoned by Bo for digging into uncomfortable details about his rule, said Bo romanced a secretary in her 20s called Li and spent so much time with various women in the city's luxury hotel suites that he was nicknamed "Bo Qilai", or "Erect Mr Bo".
Last September, communist party investigators announced that Bo "had or maintained improper sexual relationships with a number of women".
The desperate circumstances of Gu's flight to Britain helps in part to explain why, despite being the wife of one of China's most important leaders, she chose in 2000 to base herself in a shabby three-bedroom apartment in an office block in Poole, Dorset.
Public records show that she lived there with her confidant, Patrick Devillers, a French architect, while the then 12-year-old Guagua enrolled at Papplewick School, near Ascot.
At the time, it was unheard of, and politically suspect, for the child of a communist party chief to go to a foreign prep school.