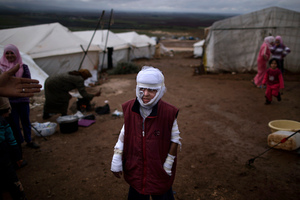 Syrian regime forces fired intense artillery and rocket barrages last night on the eastern suburbs of the capital, Damascus, in what two pro-opposition groups claimed was a "poisonous gas" attack that killed dozens of people.
The claims came as a 20-member UN chemical weapons team was in Syria to investigate three sites where chemical weapons attacks had allegedly occurred in the past.
The Syrian government promptly denied the reports of a chemical weapons' attack as baseless.
"They are an attempt by to divert the UN commission on chemical weapons from carrying out its mission," the state-run Sana news agency said, quoting an unnamed government official, as is its standard practice.
The Syrian Observatory for Human Rights said the shelling was intense and hit the capital's eastern suburbs of Zamalka, Arbeen and Ein Tarma.
It quoted activists as saying that regime forces fired "rockets with poisonous gas heads" in the attack that killed "tens of people."
Rami Abdul-Rahman, the Observatory chief, said the activists in the area said "poisonous gas" was fired in rockets as well as from the air. He added that regime forces were on a wide offensive on the eastern and western rebel-held suburbs of Damascus.
Another group, the Local Coordination Committees, said hundreds of people were killed or injured in the shelling. Such different figures from activists groups are common in the immediate aftermaths of attacks in Syria, where the Government restricts foreign and domestic reporting. Abdul-Rahman said more than 40 people have been confirmed dead and the toll could go much higer.
The Syrian Government has long denied claims by the opposition on chemical weapons use, saying rebels fighting to overthrow President Bashar al-Assad's government have used such weapons.
Mohammed Saeed, an activist in the area, told AP via Skype that hundreds of dead and injured people were rushed to six makeshift hospitals in the eastern suburbs of Damascus.
- AP