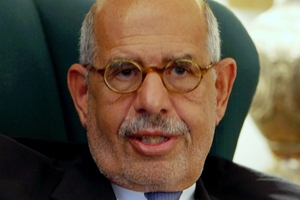 Mohamed ElBaradei, the Nobel laureate who quit the Egyptian Cabinet in protest over last week's bloodshed, faces being hauled before the courts after being accused of a "betrayal of trust".
ElBaradei was a co-leader of the National Salvation Front (NSF), a coalition of liberal and secular forces which joined the nationwide demonstrations against the deposed President Mohammed Morsi.
The former head of the UN nuclear agency, ElBaradei - supported by figures within the liberal elite but unloved among many ordinary Egyptians - initially endorsed the popular coup that swept Morsi from power on July 3.
ElBaradei even went so far as saying the military intervention had "relaunched" the revolution that toppled Mubarak in February 2011.
But a little over a month later, his political fortunes drastically changed. Last Thursday, following the massacre of several hundred Islamists by armed police in eastern Cairo, he resigned as Vice-President.
News about the court case follows the arrest of the Muslim Brotherhood's supreme guide. In yet another blow to the 85-year-old Islamist organisation, Mohamed Badie was seized by police at an apartment in the east Cairo district of Nasr City. He faces allegations of murder and inciting violence.
The case against ElBaradei will be heard in a Cairo court next month and is being brought by Sayyed Ateeq, an Egyptian law professor, according to judicial sources. "He was appointed in his capacity as a representative of the NSF and the majority of the people who signed the Tamarod declaration," Ateeq said, referring to the grassroots petition movement that had called for Morsi to resign.
Ateeq said ElBaradei - who left Egypt this week and travelled to Europe - could face three years in prison if found guilty. But judicial sources said the maximum sentence is a fine and suspended jail term.
The White House criticised Badie's arrest, saying it was incompatible with the military's pledge for an "inclusive political process", but denied reports it was halting its US$1.3 billion ($1.65 billion) annual aid package.
Today, foreign ministers from the European Union, which had pledged nearly 5 billion ($8.5 billion) in aid for 2012-13, were to meet in Brussels.
Oil-rich Saudi Arabia has said it and other Arab states would step in to fill any funding gap if Washington withdrew aid.
- Independent, AFP