Opposition Leader's $6.25 billion lure slammed by friend and foe alike.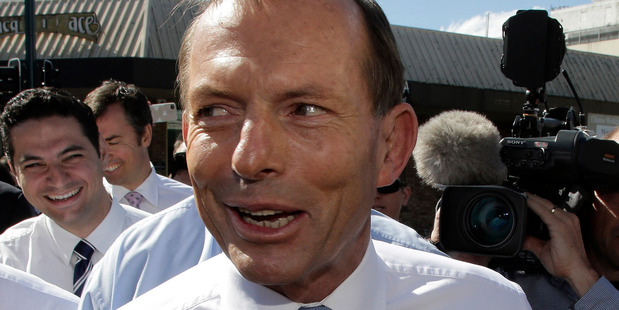 Opposition Leader Tony Abbott's "signature" parental leave policy has turned around to bite him as he feels the first real heat of the campaign for the September 7 election.
The scheme, by far the most expensive promise of the campaign to date, has left the Coalition struggling to explain how it will be paid for, triggered deep divisions within the Opposition, and burned state governments struggling with their own battered economies.
The announcement of the generous scheme providing women earning up to A$150,000 ($169,500) a year six months' leave on full pay, plus superannuation, has also brought Abbott under further fire for refusing to release his election costings.
This has allowed Labor to whack away at what is rapidly shaping as their key attack strategy: dire warnings of huge cuts to health, education, family payments and other programmes under an Abbott administration.
It is a potent weapon, playing on voters' fears that Abbott will hew into spending in the fashion of Queensland Liberal Premier Campbell Newman, who cut services to the bone with the loss of thousands of jobs.
Similar measures were adopted in the Liberal states of New South Wales and Victoria.
The economy, living costs and jobs are the main concerns of voters. Playing on these fears, Labor is warning that Abbott will take state austerity to a massive federal level, driving the nation into recession.
How this will finally play out at the ballot box has yet to be seen. While Abbott is at present on the spit, Prime Minister Kevin Rudd is still struggling to overcome six years of often chaotic rule and a deadly Coalition campaign blending fact with fiction to portray the economy as a wasteland razed by Labor.
Rudd's personal drawing power is also fast waning. Importantly for an election Rudd declared would be fought on trust, Newspoll found that Abbott has a strong lead as the more trustworthy.
The backlash from his leave policy has given Labor a rare free kick. The scheme would cost A$5.5 billion ($6.25 billion) a year from 2015 - three times that of Labor's provision - paid for by a 1.5 per cent levy on big business, the states and by cuts to federal spending, including family payments.
Shadow treasurer Joe Hockey was at a loss to explain exactly how it would be paid for, at one stage incorrectly saying it would be 100 per cent funded by big business. "So the man who would be the Treasurer of Australia doesn't know how he would pay for his leader's signature policy," Finance Minister Penny Wong said.
The Opposition says the policy is fully costed and fully funded, with details to follow later. "The Parliamentary Budget Office has gone through this with a fine-tooth comb," Abbott said.
But there is anger at the policy among Opposition MPs, especially those of the junior Coalition partner, the Nationals. Big business is deeply opposed. Economists say the policy will be an expensive failure.
Tasmania and South Australia are unlikely to sign up. Western Australia's Liberal Premier, Colin Barnett, initially rejected it but has now grudgingly conceded he would talk about it later.
Labor says the policy is too expensive and the cost would be passed on by business through higher prices for food and other household essentials.
Rudd is also playing the class card, claiming the policy would benefit the rich: "Mr Abbott's belief in a fair go is that a certain select group of families should be given A$75,000 worth of paid parental leave, while ripping A$15,000 out of the pocket of 1.3 million families with the end of the school kids' bonus."
Election snapshot
* We are at the halfway point of the campaign and a new report from Roy Morgan finds the Coalition on track to beat Labor at the polls.
* Prime Minister Kevin Rudd and Opposition Leader Tony Abbott are among several politicians filmed dancing and lip-syncing for Canberra punk band Super Best Friend's new music video.
* Media mogul Rupert Murdoch praised Abbott via Twitter.
* Liberal candidate contesting the seat of Charlton, Kevin Baker, has been forced to shut down and apologise for his personal website, which contained lewd jokes and references to incest, domestic violence, racism and child abuse.
* The Sex Party has launched its election campaign in South Australia with a call to end tax breaks for churches.
* The Bullet Train for Australia Party launch their campaign by releasing 50 cartoon pigs tied to helium balloons on the front lawn of Parliament House in Canberra.
- AAP