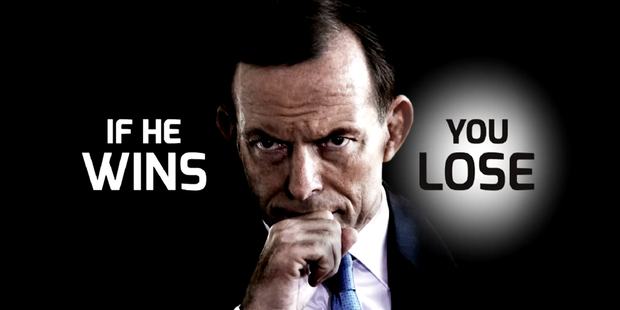 Glaring out from beneath heavy eyebrows, face deeply shadowed, Opposition leader Tony Abbott has become the lead face of Labor's new advertising campaign.
"If Abbott wins, you lose," the advertisements warn voters.
Faced with plummeting polls, the Government has eschewed Prime Minister Kevin Rudd's opening promise of a positive campaign.
On the streets, party workers are pushing similarly-themed pamphlets and posters. Union campaigns are targeting "cuts, cuts and more cuts" they say would follow an Abbott victory on September 7.
The Coalition has also been on the attack, with a tightly focused assault on Rudd and Labor's record.
Labor portrays Abbott as the mad slasher who will drive the economy into recession by cutting jobs and services. The Coalition places Rudd at the helm of a failed Government that cannot stop the boats and has burdened taxpayers with the carbon tax.
"Mr Abbott hasn't really thought through the impact of his cuts on people's lives," Rudd said yesterday, promising A$50 million ($56.6 million) for the care of stroke victims.
Abbott, announcing a crackdown on gun imports with mandatory 5-year prison terms for smugglers, hit back: "The current government in losing control of our borders has not just failed to stop the boats but has failed to stop the guns as well."
Both stretch the truth. Economists question Rudd's claim that Abbott's campaign promises would mean A$70 billion in new cuts. Abbott's gun import claims ignore research showing most illegal firearms are stolen within Australia.
But Labor's new attack ads reflect increasing fears that Rudd is losing.
A Newspoll in the Australian yesterday said his popularity had dived to its lowest ever, while Abbott's had continued to rise.
Voters appear to be losing their doubts about the Opposition leader and earlier perceptions that he was not yet Prime Minister material. His series of gaffes last week have done him no harm, and may have helped by presenting a more human face.
Rudd remains the preferred Prime Minister, but by a much reduced margin, and the Government trails the Opposition by 54-46 per cent in the two-party preferred vote that decides Australian elections.
A Morgan poll yesterday showed less spectacular gains by the Coalition but still placed Abbott in the winning seat.
With a commanding lead, Abbott has been scathing of Labor's attack ads: "[Rudd] can't open his mouth without attacking the Coalition and attacking me ... because [Labor] has no record to defend and has nothing positive to say about our future."
Rudd replied: "Now we're returning fire, based on policy facts. You may say it's negative but we say it's putting the spotlight on what Australia would be like if Mr Abbott became Prime Minister."
Labor believes its earlier ads have already helped with gains not yet reflected in opinion polling. Deputy campaign director Nick Martin said the party's research showed people turned sharply against Abbott when they realised the cuts he would make.
But opinion is divided on the effectiveness of attack ads. Research has largely focused on US presidential elections - especially Barack Obama's campaign last year - and has found overwhelming voter dislike of vilification of opponents.
Researchers have also found that the impact of the ads is short-lived, that they are supported or dismissed according to voters' political views, and that while in some cases they could be effective for challengers, in others they could harm incumbents.
Other studies have found that attack ads can be effective in pointing to an opponent's weaknesses. For incumbents, this could help voters hold incumbents to account, one study said.
Stand by for more blood on the floor.
Two many pollies in kitchen?
Usually it is Prime Minister Kevin Rudd and Opposition Leader Tony Abbott who get the roasting from the nation's political reporters.
However, in the final week before the September 7 election the tables will be turned. The two leaders will instead be cooking for ABC journalist Annabel Crabb on Kitchen Cabinet, a series that has attracted the biggest names in Australian politics for dinner and a chat.
Appearing on a show with an average audience of 753,000, Rudd and Abbott will don aprons and whip up a meal for Crabb, while subjecting themselves to an informal over-the-pots grilling in their own homes.
"Annabel Crabb has discovered that the best way to get to know a leader outside of campaign rhetoric is to sit down and have dinner with them," ABC head of entertainment Jennifer Collins said. "This election, viewers will decide who can deliver the goods in the kitchen."
Crabb added: "Election campaigns are such frenetic events. It's a real luxury in the middle of all that to be able to change gear and talk to these two leaders over a meal, in their own homes."
Abbott will cook first, on September 4. Rudd will appear the following night. Neither has disclosed his menu.