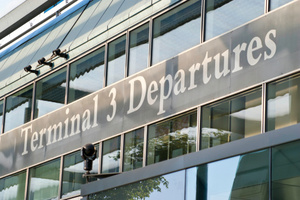 Heathrow Airport staff have been warned that women could conceal dangerous explosives in their breasts.
Al-Qaeda's chief bomb-maker, Ibrahim al-Asiri, is believed to have developed explosives that can be concealed in implants or bodily cavities and escape detection from airport scanners, says the Mirror newspaper.
One staff member said: "We have been told to pay particular attention to females who may have hidden explosives in their breasts.
"This is particularly difficult for us to pick up but we are on a very high state of alert.
"It's led to long queues here at Heathrow - much longer than usual at this time of the year. But because it's the summer holiday season, no one has complained."
The editor of Security International, Philip Baum, says body scanners are good at identifying objects outside the body but not inside, and the possibility of medically implanted explosives is a concern to the industry.
Explosives expert Andy Oppenheimer said: "There is a great fear that al-Qaeda is planning on using internal devices to try to get through airport scanners."
Another specialist, who asked not to be named, said breast implant bombs could be set off by injecting another liquid.
He said: "Both are very difficult to pick up with current technology and [officials] are petrified al-Qaeda is a step ahead here.
Security analyst Paul Beaver said: "There are deeply serious concerns over body cavities and implants of all kinds - including breast implants - being used to hide explosives.
"It is taking longer to get through Heathrow and other airports in Europe and North America because of these fears."
He said terrorists were getting clever, "but so are detection methods".