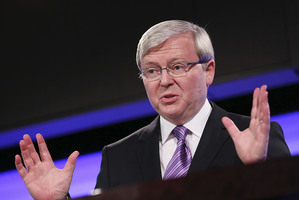 A new bid to shut the Greens out of Parliament will ensure that Australia will not be led by a minority Government in coalition with the minor party if the September 7 election fails to decide a clear victor.
Opposition Leader Tony Abbott, who had previously ruled out any deal with the nation's left-of-centre third party, yesterday announced he would direct preferences to Labor ahead of the Greens, placing them last on how-to-vote cards.
Prime Minister Kevin Rudd has also now rejected any formal alliance with the Greens similar to the deal predecessor Julia Gillard made after the 2010 election - although he has not made any announcements on preferences or ruled out any other arrangements.
Both parties want to govern in their own right to avoid a repeat of Gillard's fraught three years in minority government. The Greens say they are in collusion to turn Parliament into a "two-party closed shop".
At immediate risk is the sole seat the Greens hold in the Lower House, won by MP Adam Bandt at the last election with the help of Liberal preferences. The inner-Melbourne seat, clustered in the suburbs surrounding the city's central business district, could now fall to Labor rival Cath Bowtel, the party's Victorian president.
Until Bandt's victory, Labor had held the seat since its creation in 1904.
Abbott's move will also ease pressure on Deputy Prime Minister Anthony Albanese, contesting the marginal inner-Sydney electorate of Grayndler, and may help Labor retain or even win other seats.
By handing Labor what is a free kick, Abbott is displaying confidence of a Coalition victory beyond the slim lead shown in opinion polls. He is also trying to widen the schism between Labor and the Greens that began opening in the later stages of the Gillard Government, culminating in an end to the formal alliance last February.
"This is my captain's call and I say to Mr Rudd, be man enough to do the same," Abbott said in a challenge to Rudd to also place the Greens last in Labor preferences, The Greens' nine senators hold the balance of power in the Upper House, and Bandt, while central to Gillard's survival, was also a loud voice against policies of both major parties.
But the party lost support through compromises with Labor after reaching its peak of almost 12 per cent of the national primary vote in 2010. Polls indicate that the level of support now runs at about 9-10 per cent.
Leader Christine Milne has been working to distance the Greens from Labor. The party has taken a fiery stand on issues, such as asylum seekers and climate change, while beefing up other core environmental and social policies.
Recent policy announcements include a universal dental care scheme, lower company taxes and tougher competition laws, advocacy of a very fast train for the eastern seaboard, a ban on semi-automatic handguns, better rural health services and more childcare funding.
Abbott's announcement will be a blow. Parties suggest voting preferences on how-to-vote cards which, while not binding on supporters, can heavily influence their choices.
The Greens were not surprised by Abbott's move and believe they can still retain Bandt's seat.
Liberal voters might now shun Bandt, but it is unlikely most Labor supporters would help Abbott to power by voting Liberal ahead of the Greens - although there is no doubt Bandt now faces a far harder job.