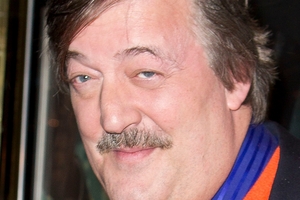 One of the architects of Russia's anti-gay laws has launched an attack on homosexuality and accused broadcaster Stephen Fry of being "sick" because of his attempt to commit suicide.
Vitaly Milonov was speaking after Fry called for a boycott of the Sochi Winter Olympics because of homophobic prejudice in Russia.
New laws have made it illegal to provide information about homosexuality to anyone aged under 18. Foreign nationals who are found to be "promoting" homosexuality in this way face jail, while Russians are likely to be fined.
This year, Fry, who has bipolar disorder, revealed he tried to take his own life in 2012 and admitted he still struggled with loneliness and unhappiness, though his mental health had improved. Speaking on BBC Radio 5 live, Milonov said: "Who is this Stephen Fry? I know because he is sick person because he tried to commit suicide as far as I remember."
Milonov met Fry in St Petersburg in March this year when the broadcaster was filming a documentary on gay people's experiences across the world and he interviewed the politician.
The comment was part of a long rant by the politician and MP, who likened homosexuality to perversion. When asked if he was fighting a war against homosexuals, Milonov replied: "It is a shame and it is a sin but it is a personal choice. It is not normal but a person cannot be punished in Russia for being homosexual, or to live with a dog, with a horse, with a sheep, whatever."
Asked whether he was likening being gay to bestiality, he continued: "Homosexuality is one of the sins for us and it means we should not teach our kids that sin is okay."
Milanov was a co-sponsor of the so-called "non-traditional relationships" bill and said last month that athletes who transgress the law during the Olympics face arrest.
His comments came the day after British Prime Minister David Cameron rejected a call by Fry for the Sochi Winter Olympics to be moved. Writing on Twitter Cameron said he shared the "deep concern" of many about the abuse of gay people in Russia, but added: "I believe we can better challenge prejudice as we attend, rather than boycotting the Winter Olympics."
- Independent