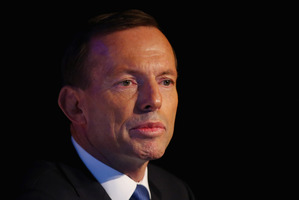 Peter Beattie, pink batts and sliding poll ratings - as Australia enters week two of the campaign, voters could be forgiven for thinking it's back to the future for the Labor Party, rather than "A New Way", as its campaign slogan promises.
The New Way was supposed to deliver a new, improved Kevin Rudd, who would soar above Tony Abbott and induce collective amnesia in the electorate, which would forget all about the dysfunction and policy blunders of the last six years.
Instead, Rudd - who leapfrogged Abbott in the trustworthiness ratings shortly after defenestrating Julia Gillard - is now seven points behind, says a Fairfax-Nielsen poll. In a new Galaxy poll, a third of voters cited Rudd's previous record in government as his greatest weakness. One lowlight of that first term was Labor's disastrous home insulation programme, which was linked to four deaths and more than 200 house fires. On Friday, Abbott pledged an inquiry into the "pink batts" debacle, while visiting an insulation factory in Rudd's Griffith electorate.
The Prime Minister was also in Queensland, where he unveiled a new/old candidate for the Liberal-held seat of Forde: Peter Beattie, the former state Premier. And in a new twist on an old catch-phrase which Australians are already heartily sick of, Rudd declared: "His name's Peter, he's from Queensland and he's here to help as well."
The parachuting in of Beattie, 60, prompted a senior Liberal strategist, Mark Textor, to tweet a picture from Dad's Army. But among Abbott's top media advisers is Australia's oldest federal MP, Philip Ruddock, 70. Ruddock has said his main task is to "keep Tony calm".
Nor is it just Labor which is being haunted by ghosts from the past. In 2010, the Liberal candidate Jaymes Diaz somehow managed not to win Greenway, in western Sydney - which seemed a dead cert for the party and could have delivered it government. To Abbott's dismay, Diaz - the son of a migration lawyer said to wield great influence within the area's large Filipino community - was selected again. Last week, in an excruciating Channel 10 interview which went viral, Diaz failed to spell out the Coalition's six-point plan for stopping aslyum-seeker boats, beyond "stop the boats".
Every wing of politics - right, left and barking - has had moments it would rather forget. For Labor, it was a dummy-spit by David Bradbury, MP for marginal Lindsay, who - on being questioned about interest rate policy by radio host Glenn Daniel - demanded: "Are you a Liberal Party member ... what's going on?"