Kevin Rudd uses conspiracy theories over the supposed broadband threat to Foxtel as he fights back against.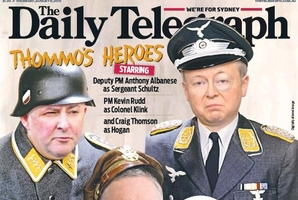 The beast is back. Rupert Murdoch, the Australian-born naturalised American media billionaire, is out to get Labor with a sledgehammer.
Prime Minister Kevin Rudd, pilloried and parodied in Murdoch's newspapers, has declared war in return, turning to conspiracy theories to explain the support the mogul is giving Opposition leader Tony Abbott.
With the September 7 election fast looming, and with polls beginning to tip from a 50-50 race to an Abbott lead, this is a high-stakes scrap. It is also one Rudd could well do without.
Yesterday, the mass-circulation Sydney tabloid the Daily Telegraph covered its front page with digitally produced depictions of Rudd and Deputy Prime Minister Anthony Albanese as Colonel Klink and Sergeant Shultz of the 1960s comedy TV series Hogan's Heroes.
Between them, in United States uniform, was disgraced former Labor MP Craig Thomson, now facing a bucketload of fraud charges relating to his time as national secretary of the Health Services Union.
"I know nuthink", the headline ran, attributing Shultz's trademark quip to the Labor leaders. The story was a beat-up of Albanese sharing a private beer with Thomson without Rudd's knowledge, supposedly negating his claim to a "new way" for Labor.
Earlier, the Telegraph had announced the election with a front-page splash: "Finally, you have the chance to kick this mob out."
Rudd decided to swipe back with claims Murdoch had reached a deal with Abbott in a bid to scrap the Government's new national broadband network in favour of the Coalition's cheaper, slower option. Rudd said Murdoch saw the NBN as a threat to the Foxtel pay TV network.
Abbott denies ever discussing the NBN with Murdoch. His deputy, Julie Bishop, said she was worried Rudd was "descending into some dark world of conspiracies".
News Corp said Foxtel would benefit from faster broadband.
But Rudd is right in identifying a powerful enemy. Murdoch's tabloids have been blatant and heavy-handed. The national Australian, while less macho and more sophisticated, has also long campaigned against Rudd-Gillard-Rudd.
The question now is how much influence this will have on voters. The Telegraph and Melbourne stablemate the Herald Sun have huge audiences and a very strong billboard and commuter presence. The Telegraph is strong in western Sydney, crucially important to the election outcome. The Courier Mail and Advertiser have monopolies in Brisbane and Adelaide.
Overall, Murdoch has almost 60 per cent of all daily newspaper sales in Australia, and about 65 per cent of major metropolitan and national circulations.
But while there is general agreement it is a bad idea to be offside with Murdoch, opinion is divided about the real power his newspapers exert.
First, sales are declining and, while readership of their internet sites is fast rising, the web offers wide, diverse and strident competition from alternative and well-informed rivals. Many are free and contain news, comment and analysis, ranging from the academics of The Conversation to the online Guardian Australia.
Social media is a new and untested factor. Twitter has more than two million Australian users, and Facebook more than 11 million, compared with the Telegraph's daily sales of about 350,000 and the Australian's 123,000. Rudd also has far more Twitter users than Abbott.
And television is a potent competitor for newspapers.
How much Murdoch will sway voters has yet to be seen, but a barrage of front pages critical of Rudd could add to voters' gloomy perceptions of the state of the nation.