Labour's lead over Conservatives has tumbled from 11 points in March to just five.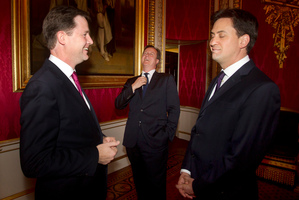 British Labour's lead over the Conservatives has more than halved in just four months amid anxiety in the party's ranks over Ed Miliband's leadership strategy, according to a combined poll of polls for the Independent.
The finding comes at the end of a difficult month for Miliband, who was first assailed by the Tories over his party's union links and then faced anger from union chiefs over his plans to reform them. It also coincides with criticism that senior frontbenchers have failed to take a more aggressive approach to the Coalition as Westminster enters its long northern summer recess.
A weighted average of July's polls shows Labour's lead over the Conservatives has tumbled from 11 points in March to just five points. It puts the Tories on 33 per cent, Labour on 38 per cent and the Liberal Democrats and the UK Independence Party on 11 per cent each. The last time the gap between the two largest parties was narrower was in March 2012.
John Curtice, professor of politics at Strathclyde University, said Miliband's personal ratings were slipping and that a "faint scent of economic optimism" could benefit the Coalition parties. "There must be a concern that having failed to convince the electorate in the last two years that they could provide a better alternative government, Labour could now find the Conservatives are able to claw themselves back into serious electoral contention. Mr Miliband's need to demonstrate he can lead his party to victory is becoming urgent."
Chris Leslie, the shadow financial secretary to the Treasury, acknowledged there were jitters within the Parliamentary Labour Party (PLP) over the general election, which is less than two years away.
Geraint Davies, a Labour backbencher, said the party had to confront Tory charges that Labour "messed up the economy". He said: "Not rebutting this charge makes us look like a shamefaced schoolboy admitting responsibility by omission."
A former supporter of Miliband told the Financial Times: "The [the Australian Labor Party] have changed their leader and have surged from minus 12 in the polls to plus two. It's still not clear what [Miliband] stands for, what he wants to do if he ever gets into Downing St. Morale is bad."
- Independent