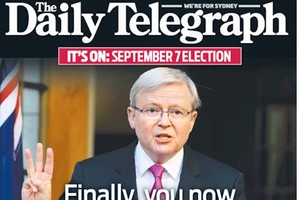 Australia's political transformers are striding the campaign trail, trying to convince the nation's voters they have become entirely new prospects ahead of the September 7 election.
Prime Minister Kevin Rudd, still streets ahead of Opposition leader Tony Abbott in popularity, is out under a "New Way" slogan in the hopes of persuading sceptical voters that Labor is no longer the torrid mess of the past six years.
Abbott, leading a more popular Coalition, wants Australians to believe he is no longer "Dr No", the king of negativity and the master of the three-word slogan.
Ringing a more positive bell, he is campaigning on the theme of "New Hope".
How much either can convince voters of their transformation has yet to be seen, although gravity is tilting more in Abbott's favour as Labor tries to shake off the effects of his devastating attacks and the self-inflicted wounds of former Prime Minister Julia Gillard's chaotic rule.
A disliked leader stands a good chance of beating the popular head of an unpopular incumbent Administration.
Rudd is working to shed lethal perceptions, accepting that Gillard was never able to claim the political agenda from Abbott and failed almost entirely to successfully trumpet a series of significant policy successes.
Two of these - education reforms and the national disability insurance scheme - have been adopted by Abbott and swept into the package he will take to the polls, with no credit for Gillard.
Rudd has been working frantically since his return to power just over a month ago to clear up the mess, locking into place harsh new policies to neutralise Abbott's scathing attacks on Labor's inability to stop asylum seekers' boats, switching early from the equally damaging carbon tax to an emissions trading scheme, and setting a new economic agenda.
The latest Newspoll in yesterday's Australian shows that he still has a hard road ahead, despite the surge that thrust Labor from the pits of political hell to a neck-and-neck race after Gillard's departure.
Newspoll gave the Coalition a lead of 52-48 in the two-party preferred vote that determines Australian elections, sufficient for Abbott to win. "We go into this election as the underdogs," Rudd said on ABC radio.
Having locked in his key policies, Rudd must now convince voters that Labor is the superior economic manager, despite the evaporation of the surplus inherited from the last Liberal Government, and new projections of a A$33 billion ($37.6 billion) hole in the budget, slowing growth and rising unemployment.
Rudd's message is that Labor saved Australia from the global financial crisis and maintained a rare AAA rating. He said the end of China's resources boom meant Australia needed to transform its economy.
"I think what the Australian people want is a new approach for the future, which is based on positive policy and bringing the country together ... [not] the old politics of the past in which Mr Abbott is a key exponent [which are], grounded in negativity."
Abbott is chasing the same high ground. Sidestepping questions on his unpopularity, he contrasted the Coalition's previous economic record to Labor's performance.
"The budget has deteriorated by A$3 billion a week since May, unemployment is marching towards 800,000, [government] debt is surging towards A$400 billion, and all this Government's solution is to whack people with extra taxes, rather than to try to produce a stronger economy."
Abbott has also ruled out forming a minority government if the election produces a hung parliament: "Minority governments, hung parliaments, aren't strong governments, they're not honest governments."