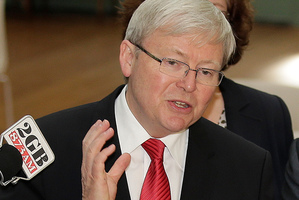 Sydney's irrepressible tabloid, the Daily Telegraph, is not known for its subtlety.
But yesterday's edition - featuring a front-page headline screaming "Finally, you now have the chance to KICK THIS MOB OUT" - was epic, even by its own standards.
In an editorial that began on the front and continued inside, the Rupert Murdoch-owned daily declared that while it was customary for newspapers to deliver their verdict on the eve of an election, "we would like to offer our judgment in a calm and measured way now, unaffected by the relentless spin and sloganeering which is about to cloud the coming campaign".
No one could ever accuse the Telegraph of a sense of humour failure.
The Age said the Telegraph's shouty start is believed to be the work of Col Allan, the "longtime Murdoch vassal who has returned from New York to the newspaper he once edited during the 1990s to ginger up" its election coverage.
While the tabloid, which ran 10 straight pages of election coverage, was louder and brasher than its more serious print competitors, it would be fair to say that the Australian media is now officially in election hysteria mode.
"It's on" was the front-page headline of the Sydney Morning Herald, which carried side-by-side photographs of Kevin Rudd and Tony Abbott, with a one-line quote from their respective press conferences. Rudd: "I enter this election as the underdog." Abbott: "Who do you think is more fair dinkum?"
The SMH's Peter Hartcher, known to be close to Rudd, wrote that he represented "a party responsible for a six-year saga of political division and national disappointment". In its editorial, the paper urged voters to focus on key issues "rather than relying on instinct and revenge". They should question whether Labor had delivered "enough to earn another three years", it said, and look for the "detail and substance" in Coalition policies, hitherto absent.
The Australian, which ran eight pages of election coverage, chose a more sober front-page headline: "Trust us: leaders' pitch to nation".
Inside, it wrote that voters had finally got the "title fight that they were anticipating in 2010 ... the policy nerd versus the outdoor jock, the chameleon against the zealot, the pop star and the pragmatist".
The Telegraph also liked the boxing metaphor, running a double-page image of Rudd and Abbott in business suits and boxing gloves. (The image was digitally altered, it said, in case anyone wondered.)
In its editorial, the Australian called for an end to the "toxic political climate" and instability of the past three years. Most voters would echo that call.