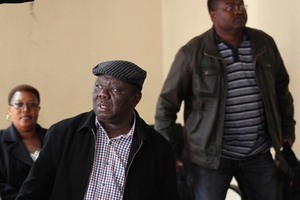 In flat cap and jacket, the disconsolate figure hurrying through the lobby of a Harare hotel was in no mood to talk.
Asked if he was confident of victory in that day's Zimbabwean elections, Morgan Tsvangirai, hardly looking presidential, raised his hand and muttered: "Please, please, please."
Quite possibly he already knew what the world was about to discover: that President Robert Mugabe was on course for a landslide victory over the Movement for Democratic Change (MDC). Next day, Tsvangirai gloomily branded the election "a huge farce" thanks to rigging on an industrial scale.
As Mugabe's Zanu-PF Party gleefully declared their rivals' 14-year project "finished", MDC leaders from across the country gathered at headquarters in Harare yesterday for crisis talks. At stake was not only Tsvangirai's leadership but the future of opposition politics in Zimbabwe, which suddenly appears in danger of returning to Africa's club of one-party states.
In the short term, there is the question of an appropriate response to an election that caused no reported deaths and is likely to be ratified by African observers.
The MDC and independent watchdogs claim the poll was rigged with brilliant subtlety and sophistication.
"They have transformed this election from the margin of violence to the margin of error - from the baton stick and machete to the desktop," said MDC secretary-general Tendai Biti.
Zanu-PF has dared the MDC to challenge the result in court, but it would face judges appointed by Mugabe.
An alternative is mass protest. The MDC's final "crossover rally" drew an about 100,000 people. Few in the optimistic crowd guessed the "crossover" would be into potential oblivion. Yet there is scant sign of those thousands taking to the streets against Mugabe's 33-year rule.
"It's not going to happen in an environment like that, because it's certain death," said Roy Bennett, the MDC treasurer-general, who said he had been driven into exile in neighbouring South Africa. "Anybody who goes out to protest now will get shot."
Bennett said the MDC leadership faced similar constraints, but called for a campaign of passive resistance. "Unless the MDC acts, and acts decisively, now, Zanu-PF will rule forever and the MDC will fade into oblivion. The people need strong leadership. If they don't get it, new leaders will emerge."
Tsvangirai has survived beatings, arrests and assassination attempts, including nearly being thrown from a 10th-floor window. He has tried and failed to dislodge Mugabe three times. In 2008, the presidency seemed in his grasp when he beat Mugabe in the first round, only to withdraw from a run-off, citing violence against supporters that left more than 200 people dead.
Tsvangirai became Prime Minister in a coalition Government and felt he could win outright this time. But the party seems to have gone backwards, with losses in many strongholds.
Tawanda Majoni, a political columnist, said: "It is clear that the MDC has made several fatal mistakes during the tenure of the Government of national unity, from Tsvangirai's love gaffes to the party's cosy approach to politics during the period in question ... The MDC should have used its nearness to power to gain some clout, but it didn't."
MDC members have been murdered, tortured and jailed during a long struggle and the prize now seems further away than ever.
- Observer