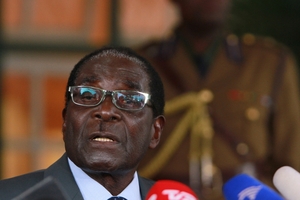 Zimbabwe's opposition leader, Morgan Tsvangirai, yesterday denounced the country's elections as "a huge farce" and "null and void" after independent observers said more than a million voters might have been disfranchised by fraud.
Robert Mugabe's Zanu-PF party claimed it was headed for a landslide victory in the presidential and parliamentary poll, trouncing Tsvangirai's Movement for Democratic Change (MDC).
The first official results from National Assembly elections yesterday showed Mugabe's party taking an early lead.
Zanu-PF won 25 of 28 seats announced, although they were reportedly mostly in Mugabe's rural strongholds.
However, opposition figures, foreign diplomats and independent Zimbabwean observers expressed grave misgivings about the conduct of the election, with one senior MDC source telling Reuters it was a "monumental fraud". Tsvangirai, trying for the third time to unseat the 89-year-old Mugabe, described it as a "sham election" that did not reflect "the will of the people".
He said: "This has been a huge farce. In our view, that election is null and void. The shoddy manner in which it has been conducted and the consequent illegitimacy of the result will plunge this country into a serious crisis."
The MDC is understood to have instructed lawyers to seek to invalidate the election in the High Court, saying it had illegally been denied access to the electoral roll before the poll to check it for large numbers of "ghost" voters.
Dr Solomon Zwana, chairman of the Zimbabwe Election Support Network, which sent 7000 observers around the country, said it was "deeply concerned" about voter violations.
The network said it had appeared to be much harder to vote in urban areas, where the MDC is strongest, than in rural areas, where Zanu-PF holds most sway.
The organisation said voters were turned away at 82 per cent of urban polling stations because they were not on the roll. In rural areas, only 38 per cent of polling stations were in the same situation.
The Zimbabwe Electoral Commission said it believed Thursday's poll had been "free and fair" and early reports suggested that it would be approved by other countries in the region, with the southern African countries' technical monitoring team declaring that it had been "peaceful, credible and effective".