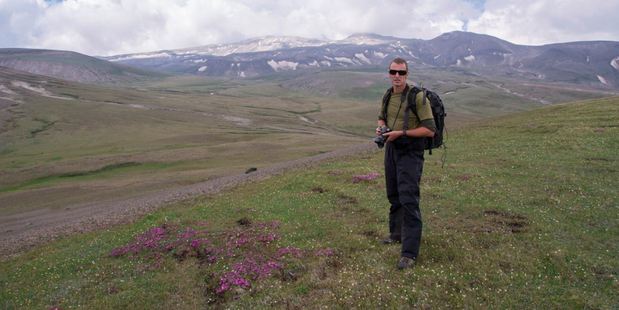 A former police officer is vying to become the first person since the Korean War to walk a mountain range the length of the Korean Peninsula.
Roger Shepherd, originally from Porirua, already has the honour of being the first foreigner to set foot in North Korea's most remote mountains since the 1950-53 conflict.
Now he is planning to walk the entire Baekdudaegan, a range running from Baekdu Mountain on the North Korean border with China to Jirisan in South Korea, early next year.
"They're very, very great, stunning, spectacular mountains, they're very beautiful to come to and walk around," he said.
"There's this deep indigenous religion that comes with it that's been around for 5000 years."
Mr Shepherd is now based in South Korea, where he has run a company called Hike Korea for three years.
"I focus on things that Westerners don't really know about Korea [not] K-Pop and medical tourism and all that other type of junk which doesn't interest me at all.
"There's an identity inside the Korean people that isn't really well narrated outside of Korea."
Mr Shepherd became something of a celebrity after he and fellow Kiwi Andrew Douch became the first foreigners to walk the entire South Korean section of the Baekdudaegan in 2007 and then published an English guidebook about it.
"I think we just touched on something that they've been familiar with for a long time. They were a little bit taken aback that a foreigner also found that very interesting."
Mr Shepherd is expecting his next challenge to be tough. Climbing North Korean mountains is difficult because there is minimal tourism infrastructure, he said.
"We had to often slash our way through the mountain pass or find ways to the summit using local villagers who obviously had a better understanding of the mountains."
Although Mr Shepherd has previously accessed North Korea through China, when he tackles the full length of the Baekdudaegan next year, he plans to cross the border through the demilitarised zone (DMZ).
"It won't be through the mountain range because that [part of the] DMZ's all mined off. We'll walk as far south as we can - to the fence, and then we'll probably take an official checkpoint through.
"No one can just walk across the DMZ."
- APNZ