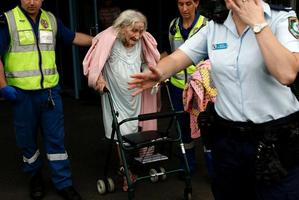 Quakers Hill nursing home mass murderer Roger Dean has been sentenced to life imprisonment.
The 37-year-old former registered nurse pleaded guilty to the murder of the elderly residents who perished in a fire he started at the Australian home on November 18, 2011.
He also admitted to causing grievous bodily harm to a further eight residents who were seriously injured in the blaze.
The court heard Dean lit two fires at the home as part of a "considered plan" to distract police officers and hospital management from his theft of over 200 prescription pills.
He lit one fire in a room where he knew two helpless and elderly women - Dorothy Wu and Dorothy Sterling - were sleeping before leading another concerned resident away, telling her "People are on their way".
By the time firefighters who were battling his first blaze discovered that one, the fire had reached the ceiling.
Dean was addicted to prescription painkillers and suffered from a personality disorder with a history of narcissism, but the court heard there was no evidence he was suffering from a significant mental illness at the time.
Lengthy sentence proceedings heard horrifying details of the final moments of the residents - three of whom died at the scene while others suffered for days in hospital before succumbing to the effects of smoke inhalation.
As well as Ms Wu and Ms Sterling, Alma Smith, 73, Lola Bennett, 86, Neeltje Valkay, 90, Caesar Galea, 82, Urbana Alipio, 79, Ella Wood, 97, Doris Becke, 96, Reginald Green, 87, and Verna Webeck, 83, all died from smoke inhalation, burns or a combination of both
Justice Latham noted the guilt suffered by many close relatives of Dean's victims who had "chosen the nursing home as a place of care and safety".
She said the murders were in the worst case category of offending, noting Dean's victims were vulnerable elderly people aged between 73 and 97 who were under his care and control.
"It is simply not possible to adequately reflect the culpability of the offender for the deaths of 11 vulnerable people, for whose care he was responsible, by any lesser penalty," Justice Latham said of the life sentence.
"There is nothing to support the conclusion (Dean) was unable to appreciate or fully appreciate the wrongfulness of his actions or make reasonable judgments."

Outside court, relatives of Dean's victims cheered and embraced.
Elly Valkay, whose mother Neeltje Valkay, 90, died in the blaze said the life sentence was "wonderful".
"I hope he suffers as much in jail as my mother suffered in the last days of her life, which was horrendous," Ms Valkay told reporters.
Dean made no reaction as Justice Megan Latham handed down the sentence in the Supreme Court in Sydney today for the "heinous", "atrocious" and "greatly reprehensible" murders of 11 residents.
"The pain and terror experienced by all of the victims must have been horrific," Justice Latham said.
"For those who were unable to move independently and who faced the prospect of being burnt alive or suffocated by smoke, a worse fate is hard to imagine."
Dozens of relatives of the victims who had packed into the court room for the sentence wept and clapped as Dean was led away.
Some wore pins bearing the image of their deceased loved one.
"You'll get yours you son of a b****," one man yelled.
- AAP