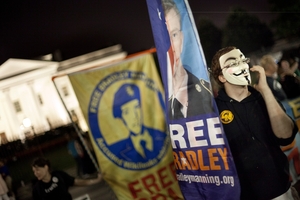 Bradley Manning was born in 1987 and brought up in Crescent, a small town in rural Oklahoma.
His American father, Brian, had spent five years as an intelligence analyst in the United States military.
Manning reportedly created his first website aged 10, and took the top prize at a local science fair for three years running. His parents divorced in 2001 and he moved with his Welsh mother, Susan Fox, to Haverfordwest in Pembrokeshire.
Small for his age - even as an adult, he is still little more than 5ft (1.52cm) - Manning was bullied in Wales, and is said to have been taunted for being gay and geeky.
With his mother increasingly unwell, he returned to the US without her in 2005, when he was 17, and after two years in a series of low-paid jobs, finally enlisted in the army to help fund a university degree.
Allegedly bullied again during military training, and almost discharged altogether, in 2009 he was nonetheless posted to Iraq as an intelligence analyst. Reports suggested he sank into a depression after a relationship break-up.
A private first class, Manning had a minimal wage and rank but his work at US Forward Operating Base Hammer, near Baghdad, gave him access to vast amounts of sensitive information. As he delved through the files he became increasingly disillusioned with US foreign policy. He would later leak what he saw to WikiLeaks.
- Independent