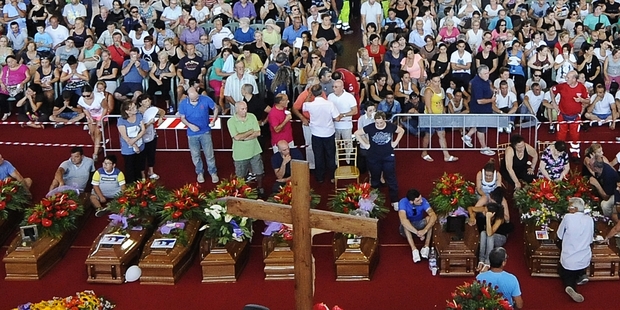 Fabiana Parella drew up her chair closer to the line of coffins at her feet and pointed at them, one by one.
"This is my mother, my father, my aunt and my uncle," she said.
Surrounded by her surviving relations, some of whom sat on the floor slumped against the caskets, Parella watched as members of the crowd knelt to plant kisses on the polished wood.
The mourners came in their thousands yesterday to pay homage to the 38 people who died when their bus plummeted from a flyover near Naples as they returned from a weekend away.
In a vast sports centre in Pozzuoli, the small town that most of the dead called home, the coffins were lined up, some adorned with flowers, some with football shirts, photographs and even memo notes with names hastily scribbled on them.
Despite the tradition of open casket vigils in Italy, the coffin lids were kept shut because of the horrific injuries suffered by many of the victims.
The coffin containing Luciano Caiazzo, the salami seller who organised the coach trip out of town for locals, was adorned with rosary beads and a balloon. A few metres away, a man lay on the ground, sobbing as he wrapped his arms around another casket. As more than 5000 people crowded into the hall, including Enrico Letta, the Italian Prime Minister, Italy declared a day of national mourning, while magistrates placed the owners of the coach under investigation, following reports that it may have sped out of control on to the flyover after losing engine parts. Telegraph Group Ltd