Theft of more than $150 million of jewellery raises theories on return of notorious gang.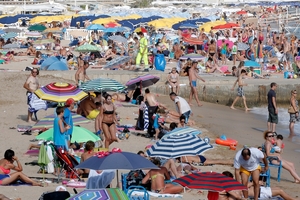 Just when crime, Cote d'Azur style, was beginning to look a little low-rent, along comes a big, old-fashioned jewellery heist to restore the louche glamour of one of the world's favourite holiday playgrounds.
French police have lately been bemoaning an outbreak of delinquency involving young men bringing lawless ways from the banlieues of Paris and other big cities to the Mediterranean.
But a jewellery raid reminiscent of Alfred Hitchcock's 1955 Hollywood thriller To Catch a Thief, following two similar robberies on the Riviera in May, is closer to what Somerset Maugham had in mind when describing "a sunny place for shady people".
The latest estimate suggests that Monday's theft yielded a haul of US$136 million ($169 million). It took no more than a solitary thief, armed with a handgun, to slip through a half-open window into the plush Carlton Intercontinental Hotel, on the Croisette promenade of Cannes, and help himself to diamonds and other gems.
Wearing dark clothes, a cap and scarf, he appears to have struck as unarmed security men were transferring valuables from a safe to display chests. He completed his crime in less than a minute, stuffing earrings and studded rings into a briefcase before coolly escaping on foot, dropping a few items in the process, according to French reports.
Hotel video cameras are being examined for clues and, despite the apparent simplicity of the robber's operation, there is every possibility he was working with others. The heist follows the escapes from Swiss jails of three members of the so-called Pink Panther gang of jewel thieves. Last Friday, Milan Poparic, 34, serving six years, fled with a kidnapper as accomplices fired assault rifles to provide cover.
The jewellery was exhibited in a former gourmet restaurant on the Carlton's ground floor by Leviev, the multinational diamond house.
Experience shows that determined jewel thieves need little encouragement to regard valuable gems on the Cote d'Azur as fair game. At this year's Cannes Film Festival, jewels worth almost 1 million ($1.9 million), intended to adorn visiting film stars on the red carpet, were stolen from a Chopard representative's suite in a Novotel hotel. Access was gained by forcing open a connecting door from an unoccupied neighbouring room.
Less than a week later, a Grisogono necklace created to mark the Swiss house's 20th anniversary - and worth almost twice as much as the gems taken from the Novotel - vanished during a festival party in a hotel at nearby Antibes.
Chopard jewels had been targeted three years earlier, in a raid at the company's Cannes boutique, and the Pink Panther gang was blamed for a 2005 snatch in Saint-Tropez of gems worth nearly 2 million. That took 75 seconds, with the thieves escaping by boat.
The well-connected Nice-Matin cited a source close to the investigation as noting that the gems stolen on Monday were insured for only half their true value. The Carlton's director-general, Francois Chopinet, was quick to declare that no client or employee was implicated in the incident
But what happens to the stolen gems if the police fail to recover them? Opinion seems divided on whether precious diamonds are easier to steal than to sell on. One French television report suggested the thieves could expect to receive only a small proportion of the gems' worth and would almost certainly have to modify them.
On the other hand, some authorities on jewellery crime argue that disposal is not as tricky as might be imagined. Among these is Scott Andrew Selby, co-author of Flawless: Inside the Largest Diamond Heist in History, about the theft of stones valued at US$500 million in Antwerp. The robbery, in 2003, was attributed to a gang of Italian thieves known as the School of Turin.
Writing in Foreign Policy in February, Selby wrote that it worked in the criminals' favour that in the complex, busy world of gem trading, one diamond could change hands several times in a day. "And not everyone keeps clear records. By the time someone realises that they're in possession of a stolen stone, it could have passed through dozens of hands, leaving the trail too cold for police to be able to track it back to the original trader who bought it off the thieves."
No gangsters are more adept at finding a market and covering tracks than the Pink Panthers. If the Carlton heist does turn out to have been their work, it will add to the mystique of a band of criminals whose exploits date from 1993 and, on more extravagant assessments, account for 150 robberies in 10 or more countries, netting total proceeds of 325 million. "The brazen drama of it is their style," said Jonathan Sazonoff, US editor of the Museum Security Network website. "The theft of high value diamonds is what they do, so it's not a great leap to assume they are on the warpath again. They are a crime wave waiting to happen."
Raiding the Cote d'Azur
May 23, 2013: Thieves steal a de Grisogono necklace worth 2 million ($3.3 million) from a celebrity party during the Cannes festival. A few days earlier, 1 million worth of gems belonging to Swiss jeweller Chopard were taken from the safe of a hotel bedroom of an American employee.
May 28, 2010: Armed robbers walk off with 7 million in gems after taking a jewel wholesaler and his family hostage in a town near Marseille.
July 13, 2009: Three men seize 15 million of jewels in an armed robbery at a branch of Cartier in Cannes.
August 30, 2005: International criminal gang the Pink Panthers steal watches and jewels worth 2 million from jeweller Julian in Saint-Tropez.
September 20, 2002: Two armed men grab 3 million worth of gems from a jeweller on the Croisette promenade in Cannes.
- AFP