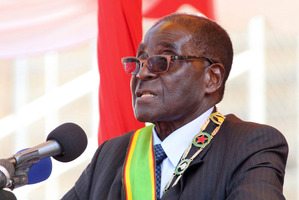 One of President Robert Mugabe's closest allies accepted US$160,000 ($200,000) paid into the accounts of his children by a company that sold fuel to Zimbabwe's regime.
Six separate payments were made to the bank accounts of three children of Gideon Gono, the Governor of the Reserve Bank, while they were studying in Australia, at the time the company concerned was helping to supply Zimbabwe with fuel.
Gono admitted that the payments had been made to his twin daughters and a son, but denied ever taking a "bribe". He said the funds had been reimbursed on his behalf.
The disclosure comes ahead of Zimbabwe's election starting tonight in which Mugabe, 89, is attempting to win another term after three decades in power and years of economic turmoil that the opposition blames on Gono, the architect of the regime's economic policies.
It provoked immediate calls for an investigation into Gono's finances. "The disclosure of these payments raises serious questions about the behaviour of Gideon Gono, who has been Mugabe's right-hand man for many years," said Kate Hoey, a Labour MP. "The Government of Zimbabwe should begin an immediate investigation ..."
In March, Britain agreed to drop Gono from the European Union sanctions list, meaning that he is now free to visit the UK and hold assets there. Hoey added: "The UK should now ensure that he is put back on the sanctions list."
During almost a decade as Zimbabwe's central banker, Gono has presided over hyperinflation, the demise of the national currency and a desperate shortage of basic essentials, notably petrol.
Gono, who blamed "illegal sanctions" imposed by the West, became the crucial deal-maker charged with ensuring the survival of Mugabe's regime, negotiating with private companies to raise funds for vital imports.
One such was Ravenscourt Corporation, which sold fuel to the Reserve Bank as part of a joint venture in 2006-07.
At the same time that Ravenscourt and its partners were supplying the Reserve Bank with almost 5 per cent of Zimbabwe's annual fuel consumption, the company was paying money into the accounts of Gono's children, according to bank statements obtained by Global Witness, a campaign group.
In particular, Ravenscourt paid US$20,000 to Gono's twin daughters, Pride and Praise, and the same amount to his son, Passion, on May 30, 2006. The money was transferred to their bank accounts in Australia, where they were students at the time.
Later, on August 21, 2006, Ravenscourt sent another US$40,000 each to the accounts of Passion and Praise Gono, and US$20,000 to Pride Gono.