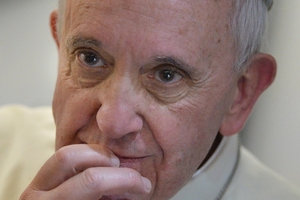 The Pope's shift in stance on homosexuality has been welcomed by activists in conservative Italy.
Francis said that gay people should not be "marginalised" and that it was not for him to judge a person's sexuality.
In a significant change, the Pope struck a much more conciliatory tone than traditional Vatican doctrine, which has called homosexuality "a deviation" and "an irregularity" that should preclude gay men from becoming priests.
"If someone is gay and he searches for the Lord and has good will, who am I to judge?" the Pope said. "We shouldn't marginalise people for this. They must be integrated into society."
Nichi Vendola, one of Italy's very few openly gay politicians, said: "At a stroke, Pope Francis has done an astounding thing, separating the issue of homosexuality from paedophilia."
Lesbian former MP Paola Concia said: "What struck me was the different tone used compared to that of Pope Ratzinger.
I don't ever expect the Pope to back gay marriage. But I do demand some respect."
The Pope's comments do not fundamentally change the policy of the Catholic Church, which holds that while homosexual orientation is not sinful, homosexual acts are "intrinsically disordered".
But they signal that he recognises that some priests are gay, and that this is acceptable as long as they adhere to their vow of celibacy. He also implicitly struck down past teachings that homosexuality can lead to "tragedies" such as clergy sexually abusing children, a position that gay rights groups have condemned as deeply misled and homophobic.
- Independent