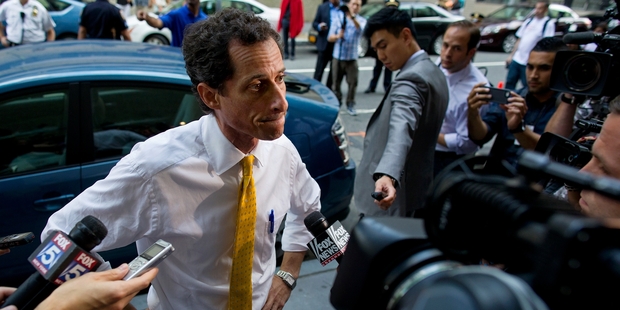 As a tableau it is becoming ever more familiar: the disgraced politician flanked by family members in various states of humiliation or anger, as he tries to explain away his moment of madness.
Last week it was the turn of the New York mayoral candidate Anthony Weiner, mortified wife by his side. He faced the media to concede that, yes, the private parts displayed in images on TheDirty.com website were his. Yes, he'd sent the pictures under the pseudonym Carlos Danger to Sydney Leathers, 22, who had criticised his politics but become a raunchy sexting partner. Yes, they were sent months after he'd resigned from Congress in 2011 after a similar relationship was exposed and at a time he was supposedly working on his marriage. No, he could not recall know how many other women were out there. Perhaps as many as 10.
In many ways, this salacious, self-inflicted political scandal of 2013 mirrors another, earlier in the internet age. In 1998, Matt Drudge's Drudge Report scooped Newsweek magazine with news of Monica Lewinsky in Bill Clinton's Oval Office.
Fifteen years on, and with a public accustomed to the technology of "sexting" and "selfies", Weiner's indiscretion was revealed by a new type of news website that not only elevates the risk of exposure faced by public figures but also threatens to usurp established media by trading in salacious exposure.
TheDirty.com is the brainchild of Hooman Abedi Karamian, aka Nik Richie, a former pop promoter on the fringes of celebrity, from Arizona. He says he was approached by Leathers, from Indiana, with the now notorious images. Leathers told Richie that Weiner had reneged on a promise to buy her a property in Chicago and said she would release the pictures as proof he had not changed since a series of similar relationships had derailed his career two years ago.
The Dirty mixes attributes of YouTube, which largely relies on user-submitted material, with those of popular celebrity and entertainment sites such as TMZ or Radar.
"A lot of the girls who come to us are fame-chasers," Richie said. "So they sleep with athletes and celebrities then submit their or their friends' hook-ups to site."
Since it's all "third-party" content, Richie is protected from libel by the provisions of the United States communications decency act: "Now everyone can have a platform to express their right to freedom of speech to say what they want about whomever they want."
He sees The Dirty as a natural media evolution given that social media has already rendered the concept of privacy irrelevant.
"Look at Facebook or Craigslist. Look at Twitter. People have to put themselves out there to get jobs. The moment you go on the internet, you are a public figure, and we live in a society where people want to brag about the things they do to people they don't even know."
Fifty years ago, the press overlooked politicians' indiscretions. Then, with greater press appetite for the exposure of public misdeeds after Watergate, private shame demanded public humiliation.
The internet, social media and websites specialising in scandal have made it far more likely for the behaviour of politicians to be detected, says Professor Mark Sachleben of Shippensburg University, Pennsylvania, who contributed to the 2011 book Sex Scandals in American Politics.
"It's almost impossible to hide something like this."
At the same time, he says, there are signs that the public is weary of being outraged at the behaviour of elected officials.
Weiner's political chances appear dependent on the continuing support of his wife, Huma Abedin, a long-time Hillary Clinton aide.
In New York's permissive political culture, being a tainted candidate is preferable to being a nondescript one - and the field of candidates to replace Michael Bloomberg is widely regarded as weak.
Richie says his interest in the Weiner-Danger-Leathers affair was apolitical: "I'm from California, I don't care about New York politics.
"You think you can live a private life, but you can't. If you don't want scandal, don't put your picture on the internet. There's no good in the end result."