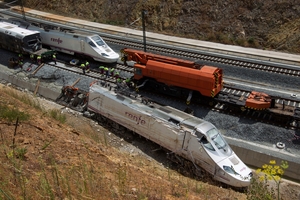 As the train sped from Madrid to the town of El Ferrol in northwestern Spain, Yesica Medina paced up and down between passengers with her 6-week-old daughter in her arms, cradling her child to stop her crying on the long journey home.
Mercifully, the baby finally dropped off to sleep and Yesica returned to her seat in the first-class carriage, intending to place baby Teresita in a cot on the seat opposite. At her side was her husband, Daniel Castro, and across from him sat Carlos, the couple's 7-year-old son.
At that instant, the family could have had no idea they were about to miraculously survive Spain's worst rail disaster for almost 70 years.
"At the exact moment I sat down, that exact moment, the train lurched on a bend and flew off the tracks," Yesica said as she nursed baby Teresita, thought to be the youngest survivor. "It was as if a guardian angel was watching over us - a second earlier and we would have been knocked over, a second later had I laid her down, she would have been crushed as the carriage went over.
I know that." As it was, the baby was protected in her mother's embrace. Only a tiny scratch is visible on her thigh.
The family's carriage was among several to derail in the accident, which happened as the train hurtled round a bend at close to 190km/h - more than double the speed limit - near Santiago de Compostela.
It crashed into a concrete wall before tumbling over on to its side. Daniel Castro thought he had lost everything. "There was a terrible noise, the carriage lurched and we were tumbled over and over," Castro, 34, said. "The lights had gone out, it was silent and in that moment I thought 'Oh God, my family is dead, I am all alone here'. Then all at once I heard the cry of my infant daughter, my son calling out and my wife screaming and I knew they were alive."
The family was travelling in the preferente - first class - section of the train, the last carriage before the rear engine, having found the seats on special offer for a two-day return trip to Madrid.
When they emerged they had to crawl beneath two other carriages wedged in the air, creating a triangle of space beneath to escape the fires that had already broken out.
"The horror of that scene was unimaginable," Yesica said. "People were walking around like zombies. There were bodies lying twisted, some trapped beneath carriages, others at windows trying to get out, all around people were calling out for help. There was blood everywhere."
Local villagers then started to run down the hill towards the stricken trains. "They pulled us up to safety but I wouldn't let the baby out of my arms."