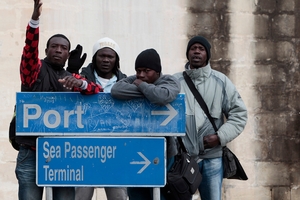 Mohammed Abdi, an asylum seeker from Somalia, counts himself to have made two new sets of friends this month. One being the "generous" people of Malta, who took him and 102 other African migrants in after their boat got into difficulties en route from Libya to Europe this month.
The other is the European Court of Human Rights, which stopped Malta's not-so-generous Prime Minister, Joseph Muscat, from flying them back to Libya after saying the island could not cope with more asylum seekers.
"It would have been wrong to send us back to Libya," beamed Abdi, 30, who now lives in a dormitory in an immigration detention centre surrounded by 6m barbed-wire fences.
"We are sorry for the people of Malta, who are very generous, but we do need help as conditions are terrible in my country."
Perched on a tiny but strategic set of islands between Europe and Africa, the Maltese have long prided themselves on their ability to repel unwanted invaders. In the 1500s, their resident Knights of St John were the heroes of Europe after seeing off the Ottoman Turks, and in World War II they were awarded the George Cross for helping Britain keep Hitler at bay.
But their latest efforts to turn back a foreign armada are unlikely to win such plaudits. Not from the European Union, anyway, which last week was embroiled in a row with Muscat's Government over its plans to return Abdi and his ilk to Libya, from where they came in a people-smuggling boat.
Muscat accuses Brussels of lecturing Malta about human rights while doing nothing to share the burden.
"Right now we cannot cope with these numbers, they are unsustainable. Malta is the smallest state in the EU, and we are carrying a burden ... much bigger than any other country."
Muscat, 39, was speaking during an official visit to Rome last week, shortly after the European Court of Human Rights had issued an interim order blocking any attempts to fly the Somalis back to Libya.
Strasbourg's judges backed claims by Maltese human rights groups and EU commissioners that Muscat was violating EU law by not allowing them to make asylum claims first, and that the move was an illegal "push-back".
"This is not push-back, it is a message that we are not pushovers," Muscat retorted. As a contributor to the EU bailouts of its southern European neighbours, he said, Malta should expect the EU to offer something in return. "People say 'solidarity, solidarity', but then nothing happens."
Whether Muscat, whose centre-left Labour Party resents the charges of xenophobia that have been levelled at it, really intended to carry out the "push-back" is a matter of debate.
Some suspect it was just a stunt to force Brussels to give practical help rather than high-handed lectures.
As Muscat himself puts it: "We have stamped our feet to say, 'Look guys, don't leave us alone'."
Either way, the row has highlighted how Malta - and nearby Italy - are struggling to reconcile their obligations as EU states with their unsought role as the doormat for African migrants seeking entry to Europe.
As Europe's southernmost nation, lying level with Tunisia, Malta's immigration problems are not just about numbers. While Britain frets about an influx of educated, English-speaking eastern Europeans, Malta mainly gets arrivals from the poorest and most war-torn parts of sub-Saharan Africa.
Most arrive largely destitute after spending most of their savings on a 600 ($1145) people smuggler's fee and the gruelling 15-day trip by truck and foot across the Sahara. And although resourcefulness is needed to make that journey, many have little schooling and speak neither Maltese nor English, Malta's second language.
Hence the groups of Africans who gather at certain road junctions around the capital, Valletta, hoping for labouring work from passing builders and hoteliers. It can be a long wait. "I have been here a month, and have found nothing," said Goodluck Ajeh, 25, a footballer from Nigeria. "I will take any job - right now I am just looking for my daily bread."
Unusually for an EU country, Malta makes all illegal arrivals stay in secure detention centres while their asylum claims are dealt with, a process that can take up to 18 months.
But when that time expires, few are sent back. Nearly 90 per cent are from Somalia and Eritrea, both seen as too dangerous for deportation.
Libya is likewise off-limits, because of a wave of reprisals carried out against black Africans for their role in fighting as mercenaries for Muammar Gaddafi in Libya's civil war.
Instead, they end up languishing in large, Government-run hostels and overcrowded rented homes, where they stand out conspicuously.
While local residents pride themselves on being tolerant and cosmopolitan - large numbers of Maltese live abroad as immigrants themselves - there are tensions in areas such as Marsa, a shipyard town of 6000.
"For a place our size to be invaded by about 1000 immigrants in the last six or seven years is a big shock," said Marsa's Labour mayor, Francis Debona, 53. "It's not because they are black, it's just a matter of suddenly having another big population with cultures and practices that are very different to our own.
"It's all very well for the European Court to say these people can't be sent back, but their judges don't live around here, do they?"
A straw poll revealed a mixture of views around Marsa. Some insisted the migrants caused no particular trouble, a view backed by Andrew Seychell, Malta's senior immigration policeman, who says there is no sign of a linked crime wave. But others accused them of unclean habits and blamed them for a fall in house prices.
"Every night you see them around here, drinking and making a mess," said Raymond Zammit, 51, pointing to stains on the pavement near his tyre business, which he said were caused by beer, wine and urine.
"The kids feel afraid to play in the parks," added Gerard Camelleri, 59.
"In another few years, Malta is going to be African." In fact, few African immigrants seek to put down roots in Malta, preferring to head to mainland Europe, where job prospects are better, and where they can legally go under the EU's borderless system.
But that creates another problem. The rules insist they must return to the country where they first claimed asylum within three months, and while the majority simply overstay, every year hundreds are caught and forcibly returned to Malta.
As such, few of the estimated 5000 in Malta have any real interest in settling, and therefore little incentive to integrate. "Some will try five times a year to leave Malta for somewhere better," said one refugee worker. "Then, every time they are sent back, they start at square one again."
Having ticked Malta off over the "push-back" talk, the European home affairs commissioner, Cecilia Malmstrom, offered to make extra emergency funds available and also pledged to do more to get other EU states to take some of Malta's immigrants. A transfer scheme is already in place, but over the past decade other European nations have taken only 700 of Malta's arrivals, with the United States taking 1300.
At the same time, the Government embarked on a public relations damage-limitation exercise, trying to allay concerns about asylum seekers' treatment with a visit to the detention centre where the Somalis were.
Abdi, the Somali who dodged deportation, said he was "very happy with the conditions, and very happy to be here". Whether his cheer will survive a stay in the detention centre and a spell of roadside job-seeking is another matter. And if more boats come it may no longer just be Muscat stamping his feet.