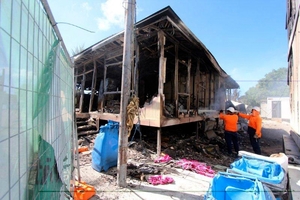 Australia's Immigration Minister, Tony Burke, will visit Papua New Guinea's Manus Island this week to investigate claims by a former security guard that asylum-seekers held there have been tortured and raped by fellow detainees, with the full knowledge of staff.
Rod St George, who quit as head of occupational health and safety at the Australian-run processing centre in April, told the SBS Dateline programme acts of self-harm and attempted suicide were occurring "almost daily".
He also said detainees were stockpiling weapons and were "quite open that there will come a time where they will break out and people will be killed".
The explosive claims by St George, who said he had "never seen human beings so destitute, so helpless and so hopeless before", came just days after Prime Minister Kevin Rudd said all asylum-seekers arriving by boat would be processed in PNG and - if their refugee claims are deemed genuine - resettled there.
As part of the new, hardline policy, the camp on Manus - about 300km north of the PNG mainland - is to be greatly expanded, to accommodate about 3000 people.
St George claimed staff had turned a blind eye to sexual assaults, which included the rape of six men in the centre's men-only tent section - with the victims then forced to return to that section because there was no way of separating them from their attackers.
Some detainees had been forced by "heavies" - other asylum-seekers - to sew their lips together, he told SBS, and one man had his eardrum punctured after solvent was repeatedly poured into his ear. "In Australia, the facility couldn't even serve as a dog kennel. The owners would be jailed," he said. "I took the position with every intention of making the place a safer environment, but it proved quite rapidly to be an impossibility ... For the first time in my life, I felt ashamed to be an Australian."
Burke, who described the claims as "horrific", told ABC radio: "I'll be in Manus in the next couple of days, and I'll have a look for myself ... There's no doubt that what has been described involves some situations and crimes which must not be allowed to occur."
The Immigration Department said that it was "unaware of the claims ... of unreported acts of self-harm, suicide attempts or incidents of rape at the [Manus] centre". Sky News Australia reported that about 70 asylum seekers had been flown off Manus Island, believed bound for Australia.
Burke reportedly also plans to visit Nauru, to inspect the estimated A$60 million ($70 million) of damage caused to the detention centre in a riot last Friday.
The Manus allegations came as the Foreign Minister, Bob Carr, said the Government was seeking a site for another offshore processing centre in the Pacific, besides the Manus and Nauru facilities. Carr, who visited the Solomon Islands this week to mark the end of Australia's regional assistance mission, said he would not "twist anyone's arms", but "if other nations in the Pacific see the value in what we're doing ... then we stand ready to talk to them".
Rudd said the Manus claims would be investigated but the new policy would stand. "We don't apologise for our policy of saying to people-smugglers that if you bring people to Australia by boat, that they will not be settled in Australia," he told 3AW radio.
Four boats carrying 299 people have arrived since last Friday. They will all be sent to Manus for processing and possible resettlement.